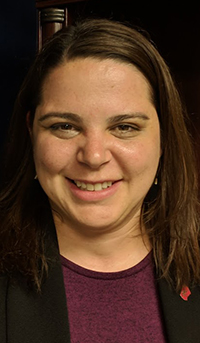 WOODBURY - Ms. Emily Hancock has been named as the Assistant Principal of Woodbury Grammar School in Woodbury, TN. Ms. Hancock was selected after the Cannon County Board of Education passed a motion last Spring to add the position for the school that has an approximate student population of 400 students in a near the city limits of Woodbury. The position was funded by the Cannon County Board of Education in the ensuing budget process this past Summer.
Mr. Rick Meacham, Principal of Woodbury Grammar School stated, "It is my pleasure to announce that Emily Hancock has been selected for the new position of Assistant Principal at WGS. Thanks to everyone who supported this effort with the District School Board, County Commission meetings and budget process. There were several well-qualified applicants who interviewed, answered written questions and responded to leadership scenarios. A special thanks to interview team from the WGS staff and the applicants. "
Ms. Emily Hancock is a twelve year veteran teacher from Woodbury, TN. She began her teaching career in Cannon County Schools at Woodbury Grammar in 2006. She has taught first grade, served as a school-wide Title I teacher for the past ten years, and building test coordinator at Woodbury Grammar. Emily attended Woodbury Grammar as a student until the 3rd grade, and graduated as valedictorian at Boyd Christian in 2002. After attending Motlow State Community College, she continued to Tennessee Tech University in Cookeville to receive a kindergarten through 8th grade teacher certification in 2006. As a lifelong resident of Cannon County, family and community are important values to her.
In 2008, Emily graduated from Tennessee Tech University with a masters in Instructional Leadership, and in 2012 with an Educational Specialist Degree in Reading. In 2016 and 2017, she taught at Motlow State Community College as a reading adjunct professor. Emily has served as a Cannon County Literacy Teacher Leader, and Data Coach. As well as a presenter with TNCore at state level reading trainings. Her specialty area is working with Kindergarten - 3rd Grade students with the Read to be Ready Summer Reading Camps. Ms. Hancock was a teacher at the first state offered reading camp for Cannon County students in the summer of 2016. In 2017 and 2018, she was co-director of Cannon County Read to be Read Camp which focuses on literacy in grades K-3 with our Upper Cumberland goal of 90 percent of Tennessee students to reading proficiency by the end of third grade in the year 2025.
Director of Schools William F. Curtis stated, "Woodbury Grammar School Principal Rick Meacham recommended to me that Ms. Emily Hancock be the new Assistant Principal for the school after interviewing several excellent applicants. I have accepted his recommendation and Ms. Hancock will begin her new duties immediately. This is a historic moment in that there has never been a full-time assistant principal at Woodbury Grammar. Ms. Hancock is a veteran of Cannon County Schools as an excellent classroom and Title I Teacher, and she served as a leader during the past two summers at the Read To Be Ready Summer Reading Camps. We are fortunate to have her serve as Assistant Principal in this capacity to assist our students at Woodbury Grammar School to be prepared for their future by being engaged in excellence every day."