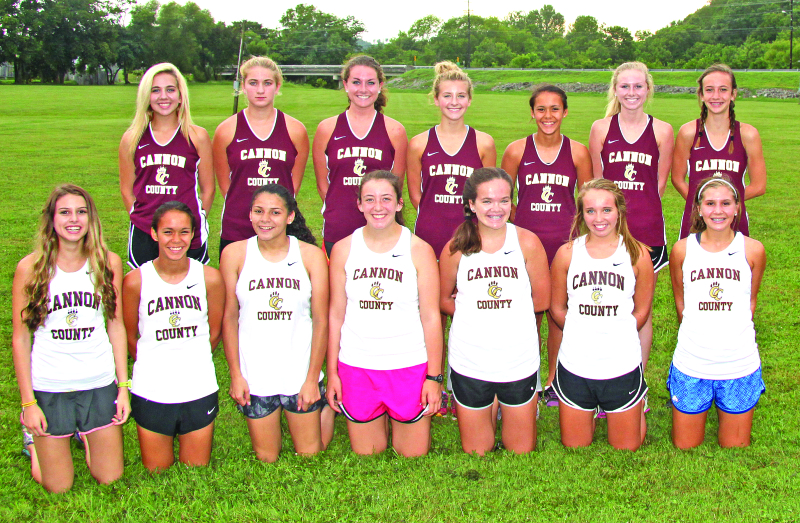 DAVID HUNTER
Courier Sports

High expectations are the norm for the Cannon County cross country program from third grade all the way to seniors in high school.

This year is no different as all three teams are looking for another trip to the state in 2016.

The CCHS team is filled with both youth and experience, even though only three seniors are back. However, they are some of the best in the mid-state. Lions and Lionettes head coach Marc Larson will rely on two seniors for the Lionettes, Hannah Whited and Samantha Gaither, and Devin Gilpatrick for the Lions to lead a bunch of talented newcomers, who are no strangers to success on the middle grade level.

"They are the heart of the team and they are blue collar runners," Larson said before training last week. "They show up every day and work hard, and it transfers over to the rest of the team."

Last season, Gaither and Whited were part of a Lionettes team, which advanced to the state meet as a team again in the short history of the program. While, the Lions barely missed out qualifying as a team against a really tough region. This year, the Lions are looking to make that next step, while the Lionettes want to continue the tradition of success.

"We just need to work really hard and give it our all in the race that counts," Whited said.

Gaither added, "If we keep our heads up, and we keep working hard out here. We are even going to get better as we keep pushing ourselves. We will be pretty good this year."

Gilpatrick added, "I think every time we do a race, especially at Regionals. We just need to think every person we pass is another point and all of those teams that barely beat us the year before have only beaten us by a small amount of points."

Both the Lions and Lionettes are loaded with talented youngsters, but they will be moving up from middle grade and the high school level. There are a lot of differences between the two, and the seniors along with the returnees have already given them needed advice on how to be successful on the high school level.

"Middle School races are two miles, and ours is three, so they are going to start out faster. So the advice I will give them is keep your pace, and do not start out fast and keep your splits even. Starting out fast is not good," Gilpatrick said.

The Lions also have senior Fillipo Anese, who comes all the way from Italy, along with juniors Alex Sergouiano, Austin Duggin, Kenan Gaines and Corey Seymour. Sophomores are Justin Whited and Blake Reed, and the freshman Duncan Cook, Mathew Elmy and Collin Reed.

The Lionettes also include no juniors and sophomores, Isabella Russo, Angela Vassar, Tyger Kennedy, Flor Magana, Ashlyn Nokes, Katie Gunter and Addison Higgins. The freshman includes Amanda Blanco, Lexie Deese, Angela Blanco, Madison Gaither, Samantha Jones and Madison Logan.

As for the middle graders and elementary students, the process starts now as their expectations are just the same as their older counterparts. This is the fifth year of the very successful program led by Coach Brian Elrod. However, a new crop of student-athletes will be looking to continue the tradition of success.

"You got to want it," Elrod said. "It is a want-to sport. You do not have halftimes or timeouts. You do not get to sit around and catch your breath. Our events are all out and then you are done."

He also added about 80 percent of the team is new, but he has two reliable leaders who have been part of the reason for the success of the program in a short amount of time. They are eighth graders Zettie Elrod and Tyler Southworth. For the first time in team history, he selected captains, and he chose those two to lead the Junior Lions and Junior Lionettes this season.

The Junior Lions advanced to state with a fourth place finish in the region, but they want more in 2016, while the Junior Lionettes have been the standard bearer as the defending region champs and they want more of the same this season.

"We need to run at an uncomfortable pace and get out there and beat everybody," Zettie Elrod said.

Southworth added, "We want to be No. 1 at Regionals."

Coach Elrod continued, "I do believe when we get on all cylinders and we get them to pack. I like to pack them up, and run them in one after another. I want to see nothing but Maroon and White jerseys coming in on top of each other. We are the defending regional champions. They are looking to get us in the girls division. They want us. If we go back and have a repeat performance like that, and we can. We have the females that are strong, and are getting stronger. Every year we try to place that much higher in the state championship.

The other Junior Lions include Jonathan Fann, Mason Tramel, James Vassar, Nick Foster, Gunter Pitts, Kyler Bryson, Daylon Dearry, DJ Moore and Jacob Foster. The Junior Lionettes include Ade Harwood, Kiley Hughes, Rudy Dearmond, Keilee Campbell, Emily Morris, Grace Campbell, Autumn Young, Alexis Rigsby, Sarah Hayes, Maddie Reed and Shelby Parker.

There is also an elementary school squad made up of third to fifth graders and they include Bella Bryson, Lia Bedwell, Amelia Gay, Emily and Alyssa Filyan, Kaitlyn Dodd, Lily Hughes and Bailey Campbell. The boys' team is AJ Armstrong, Boone Elrod, Antonio Botello, Waylon South, Matt Bane, Ethan Rigsby and Jon Andrew Bryson.

CCHS opens the regular season on August 27 at Smyrna's Sharp Springs Park for the Voyles Classic, while the middle graders and elementary runners begin August 20 at Macon County.