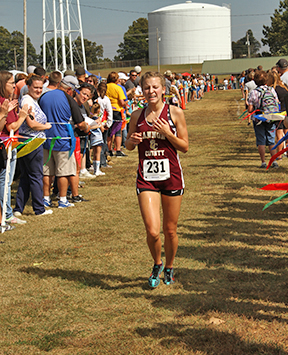 By DAVID HUNTER
Courier Sports
This edition of the Cannon County Week in Review sees the two cross country teams proving why they are the best in the area in all sports, while the rest of them finishes up their season, and some postseason awards were handed out to some well-deserving Lionettes.

CCMG and CCES Cross County- The Junior Lions and Lionettes are heading back to the state meet after another great performance at the Mid State Region Qualifier on Oct. 8 at Macon County. The Middle Grade Lionettes and the Boys and Girls Elementary team along with four Middle Grade Lions advanced to the most important meet of the season, the state meet Oct. 21 in Knoxville.

The Junior Lionettes qualified as a team as four of the racers finished the course right after another in four consecutive spots. Eighth grader Zettie Elrod led the way with a 14th place finish (14:29.50), but right behind her was seventh grader Kiley Hughes (15th-14:30.10), eighth grader Ade Harwood (16th- 14:30. 50), and seventh grader Emily Morris (17th- 14:30.80). Seventh grader Rudy Dearmond (34th-15:26) and Lexie Rigsby (35th- 15:28.60) finished up the running order for the Junior Lionettes. As a team, the Junior Lionettes finished third overall in the final standings, which means they are going to state as a team.

As for the Junior Lions, they lost their best runner, Tyler Southworth, because of an injury a few days before the race. However, four Junior Lions stepped up and earned their individual spots at the upcoming state meet. Eighth grader Jonathan Fann (8th-13:04. 70), Seventh grader Mason Tramel (16th-13:34. 50), Eighth grader Kyler Bryson (37th-14:02.90) and Sixth grader Gunter Pitts (56th-14:38.10) earned their spots for the state meet in a few days. Sixth grader Nick Foster barely missed out on qualifying by finishing 66th- 14:52. 40.

"We had personal best from about 80% percent of the team," CCMG and CCES cross country head coach Brian Elrod said. "They all hit like they were supposed to. The Elementary boys and girls looked strong as always. The big thing I was proud of the most was I have coaching them to pack up like a wolf pack. They packed up and it was a dominate performance on the girls' squad."

In the elementary mixed race, Cannon County finished third overall in the girls, and fourth in the boys' event. The state qualifiers include Bella Bryson, Lia Bedwell, Amelia Gay, Lily Hughes, Bailey Campbell, Caitlyn Dodd on the girls' side, while the boys are Boone Elrod, Antonio Bortello, AJ Armstrong, Jon Andrew Bryson, Waylon Southworth, Matt Bane and Ethan Rigsby.

The state meet will take place on Oct. 22 in Knoxville at Victor Ashe Park.

"I got them thinking this is it," Elrod said. "At Macon, they ran like this is it. This is my race, if I do not run well, my season is over."

CCHS Cross County- Last week, the Lions and Lionettes were hoping to get an early look at the Steeplechase course at Percy Warner Park in Nashville, which also hosts the TSSAA State Meet on November. However, the meet was cancelled, and instead CCHS traveled to Rock Island State Park for a tough five milers on Oct. 8.

Seven racers won trophies as Senior Hannah Whited was first in the women's race breaking a new course record in a time of 37:47. The old record was 39:59. The Lions were led by Austin Duggin, who finished second in the 18 and under division.

Duncan Cook, James Vassar, Isabella Russo, Amanda Blanco and Angela Vassar also placed in the top three in their respective age group.

This past weekend, the Lions and Lionettes traveled to Dickson for the Midstate Championships. However, the big meet comes on Oct. 26 in Cookeville, which is the regional, and their chance to qualify for the TSSAA State Meet on Nov. 5.

CCHS Soccer- The Lionettes season came to an end on Oct. 8 at the District Tournament Play-In Game at DeKalb County falling 8-1. Amanda Blanco scored the only tally for CCHS as they finish the season with one tie, and the rest of the matches ending in losses.

However, there was some good news, goalkeeper Raquel Novoa was named All-District First Team by the coaches, and Joie McCrary and Alli Howard made the All-District Second Team.

"It meant everything to me, and I was so excited," Novoa said. My brothers were named All-District, so it was a life goal to be like my brothers and be first team all-district. I could not be prouder of them. I do not know what I would have done in goal without McCrary back there, because she saved me so many times. She was a great defender, and Howard was right in front of her doing the same thing."

CCHS Volleyball- Alyssa Whited was named All-District by the coaches last week during the District Tournament at CCHS.