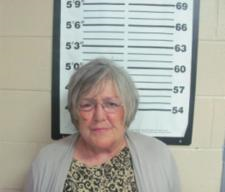 A Cannon County official was charged with DUI first offense following an accident on Monday, June 25.
Circuit Court Clerk Marsha Lynne Foster was charged following an investigation of the accident by the Tennessee Highway Patrol trooper Joshua Sparkman.
According to Sparkman's report, the accident involved two vehicles, a 2006 Chrysler Town and Country van being driven by Foster and a 2013 Ford Explorer being driven by Chief Deputy Anthony Young of the Cannon County Sheriff's Department.
The accident occurred at approximately 11:20 a.m.
"Both vehicles were traveling east on W. Adams St. inside of Woodbury," Sparkman's report states. "Vehicle 2 (the Ford Explorer) was stopped at a stop sign behind other traffic. Vehicle 1 (Foster's Chrysler) rear ended vehicle 2 at the stop sign. Both vehicles came to rest at the point of impact."
Foster was transported to Saint Thomas Stones River Hospital to have blood drawn for testing and was subsequently charged with DUI first offense.
Foster has been circuit court clerk since 2010. She is not seeking re-election in this August's County General Election. Her term ends Aug. 31.