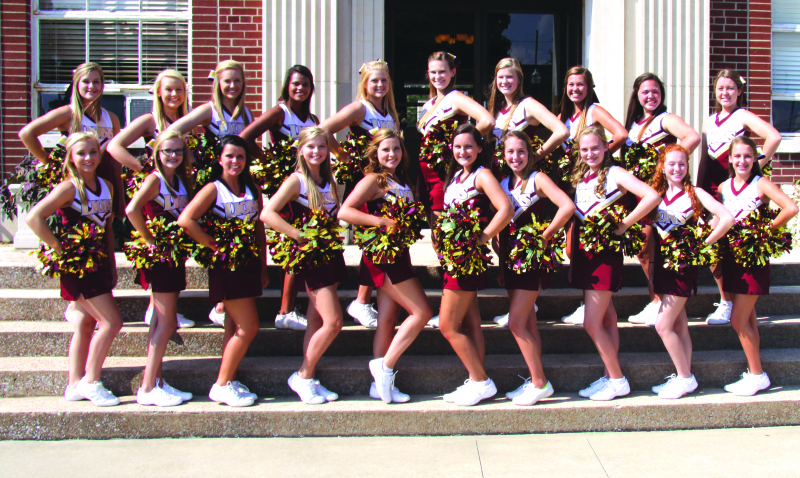 DAVID HUNTER photo
Bottom row: Katie Wagoneer, Emily Beaty, Alana Paschal, Kyra Agee, Kyla Anderson, Akristia Sissom, Katelyn Harris, Kaylan Simmons, Hannah Pate, Dani Waisanen. Back row: Aimee Mears, Kearstin Prater, Alison Smith, Baily Knox, Lily Davis, Tori Russell, Belle Russell, Kiersten Kyne, Katherine Russo and Kailee Means.
By DAVID HUNTER
The Cannon County High School football team begins the 2015 season on Aug. 21 at Community High in Bedford County. Both the players and coaches are excited about the upcoming game. However, there is another hard-working group on campus who will play an important role with the Lions this year and that's the cheerleaders.
For several years, there has been a debate within the athletic world wondering if cheerleading is really a sport. My viewpoint on the matter is I believe it is a sport and here is why.
While the various sports teams spend hours each week practicing for the upcoming game, the cheerleaders work just as hard perfecting their cheers and stunts they will perform in front of the crowd while trying to cheer the football team to victory each Friday night.
"I love performing in front of a crowd because we do have great crowd support," CCHS senior cheerleader Allison Smith said. "Walking down with the football team before a football game is my favorite part because we are here for them."
One of my favorite parts of a high school football game is when the cheerleaders put the sign up and the football team crashes through it. When that happens, especially at a home game, the crowd gets pumped up and it signals kickoff is almost here. During the week, they spend several hours working on that big banner just for it to be torn apart in a matter of seconds. But that ritual is still the best part of the pregame.
"We all get together to make the signs either after practice or we will have an extra practice to make them," Fellow CCHS senior cheerleader Kearstin Prater said. "The boys are real appreciative of all the hard work we put into them."
In order to be successful during the season, each sports team requires two basic things -- lots of talent and the ability to work together as one. Just like those teams, the cheerleaders have to do the same thing.
"It was a big jump having 20 girls on the team," Smith said. "As we went through camp, it is like having 19 sisters. We all get along and we go do stuff together."
Practice for the current season for the cheerleaders' starts after the school year is over in May and it ends after basketball season.