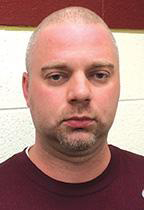 By DAVID HUNTER
Courier Sports Writer
Both of the Cannon County High School basketball teams had the same theme during summer workouts, including improving the culture and developing experience on a roster filled with young players.

"We had a good, productive few days of practice and good camps," returning Lionettes head basketball coach Jonathan Odom said. "We are exceptionally young this year, including the majority of time, we were starting two to four freshman. We were doing some exploratory lineups, and finding out who played well together, which groups were the most productive. We made a lot of mistakes, which is a characteristic of a young team. Overall, it was a very productive summer for us."

Fellow returning Lions head basketball coach Matt Rigsby added, "We used nine of 10 days of camp, and we were very productive at times. I felt like they matured some, more so off the court than some issues that plagued us last year. That was objective No. 1, and that was very good to see. We still have some ups and downs and we were lacking consistency. We looked really good three straight possessions, and then looked bad three straight possessions, and that comes with youth, too. We are still running out a lot of sophomores and juniors who really have not had that much floor time on the varsity level."

Each of the teams experienced the same issues last season, which contributed to a poor record, according to both coaches. Some of those, including dealing with injuries to key players for an extended amount of time, a lack of team chemistry and not getting enough consistency in games in one of the toughest districts in Class AA.

Both coaches made it a point of emphasis to begin to change of all their woes starting with the recently completed summer practice.

"After last season, we made the players write something nice about each other with pencils and paper," Rigsby said.

He also added, the team has used the off-season to do more team building with each other in order to be a more cohesive unit once preseason practice starts in the fall.

As for the Lionettes, Odom has also stressed improving the team culture and so far he has been pleased with the results during the summer.

"We were really bit by the injury bug last year," Odom said. "When the season was over, we looked back as a coaching staff, and we had a total of seven games last year where we were at full strength. The injury bug really bit us last year. Our message this year is all about culture. Last year there was not a very good culture in the locker room or on the floor."

Odom told his returning players there will be a number of freshmen playing "a lot of minutes this year." but reminded them they need to be consistent leaders and compete with consistency.

Both the girls and boys teams experienced normal practices during the summer workout period as well as competing at basketball camps around Tennessee. The Lionettes went to Shelbyville, Murfreesboro Siegel and MTSU, while the Lions took part in camps at Tennessee Tech, Van Buren, Murfreesboro Oakland, Gallatin and even hosted one here against Shelbyville, DeKalb County and White County.

"We want them to understand how to be a basketball player," Rigsby said. "When my defender does X, I need to do Y off this screen or off this cut. We need them to be basketball players. Every kid on the summer roster has individual skills, but that does not mean they are basketball players."

Odom added, "We saw that throughout the summer, there were some games we were playing some really good teams. We would get down, and we would respond and never, ever lay down with each other. We got freshman and new bodies coming in that have not played with each other, but from that standpoint this summer was outstanding."

Of course, the roster will change between now and the start of the season this winter as both coaches announced tryouts once school starts next month. However, each CCHS basketball team will have a mix of youth and experienced talent coming up this season.

The Lions will have five seniors, who will gain more experience this season in increased roles, but they are some of the best athletes on campus in other sports, Maika Fonoti, Anton Knox, Qwentin McMackins and Jake and Josh Walkup. Other key players to watch heading to preseason workouts, include juniors Cole George, Trey Fann, Austin Duggin and sophomores Charlie Parrish and Brandon Miles.

As for the Lionettes, they only have one senior in Samantha Gaither, but they also return All-District junior Maleah Scott. Some other key players to watch this season include sophomores Tori Knox, Olivia Walkup and freshman Kristen Fann, Anna Grace Sissom, Jessie Kaufman, Madison Gaither, and transfer Taylor Meeks.

Now it is back to work for the all of the players since the TSSAA mandated dead period ended a few days ago. However, it will be players' only workouts since coaches are not allowed to touch them until preseason conditioning starts in September. Official practice for the 2016-17 season will begin in early November. Both coaches hope the players will use this time wisely and get better as a team and individuals.

"The good thing about this group is when the dead period is over in July, they are going to work hard and make sure they are keeping up with their game this summer," Odom said.

Rigsby added, "Basketball players are made now. You do not start getting better come November. It is July, and it is time to get in the gym."