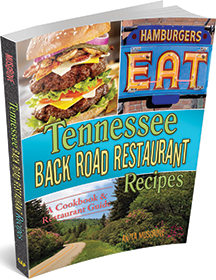 Anita Musgrove of Brandon, MS has released her second cookbook -- Tennessee Back Road Restaurant Recipes, a cookbook and restaurant guide featuring everything from restaurant signature recipes to those family favorite recipes the owners and chefs cook at home.
Among the restaurants featured in the book is The Blue Porch restaurant in Woodbury. Located in the Arts Center of Cannon County, the Blue Porch specializes in locally sourced, farm-to-table specialites.
Since 2007, mother-son duo, Wanda and Aaron Thompson have brought an array of culinary delights to events ranging from picnic-themed parties to elegant weddings - and everything in between.
In 2012, the family expanded The Blue Porch even further with a full-service restaurant. The Thompsons called themselves accidental caterers, and then they became accidental restaurateurs! Both Aaron and his mom were ready for a change, and the opportunity presented itself, so they decided to move forward. Aaron left his post as an award-winning photographer at The Daily News Journal in Murfreesboro to join Wanda full time. And the rest, as they say, is history!
Open for breakfast, lunch and dinner, The Blue Porch offers a menu that features a twist on a meat-and-three. With mismatched tables and chairs and a hodgepodge of vintage décor, The Blue Porch adds a cozy feel to its comfort food menu.
The new book features one of The Blue Porch's favorite recipes, Apple Chip Cake.
Adding those recipes are one thing that makes the book so popular. Opening the pages of this unique cookbook gives you an insider's look at the locally owned, mom and pop restaurants that make Tennessee so special.
The book presents this glimpse into more than 200 of the state's back road restaurants in regions making it easy to travel to each outstanding restaurant. When traveling to Western Tennessee, you'll experience a "Blast from the Past" at Kokomo's 50's Diner where you can grab a burger and malt, sit in the back of a 59 Cadillac, and enjoy rich goodness like you haven't tasted since the 50's. Listen to Golden Oldies while enjoying the best burger south of the Mason Dixon Line.
Central Tennessee offers 45 restaurants to explore including Ralph's Donut Shop in Cookeville, the first to commit to our book. Another favorite place is Mike's All American Diner in Shelbyville. Stop in on Wednesday morning or every second Saturday evening and shake a veteran's hand because they fought for our freedom.
In the Eastern region, you will enjoy eating at places like Amis Mill Eatery in Rogersville, Carl's Drive In in Loudon,The Plaid Apron in the Sequoyah Hills community. With 25 acres of fields overlooking Cherokee Lake is Tennessee Homegrown Tomatoes, that have bedding, vegetable plants and hanging baskets for sale.
No time to travel? No problem. Each restaurant provides one or more recipes -- some are restaurant recipes you can prepare at home, others are family favorites they prepare when cooking at home, and still others are local favorite recipes, but all are delicious and presented in a way that makes each dish a joy to make at home.
Why write a cookbook that focuses on locally owned restaurants? Musgrove says, "My late husband, Leonard, and I loved to travel back roads just seeing what we could see. Invariably, as we traveled, we would stop at small, hole-in-the-wall restaurants for a great meal. We preferred these quaint diners and unique dives for their personality and atmosphere over the same old same of chain restaurants. Many times we would have the opportunity meet the owners and always we would meet the friendly locals of the area."
After losing her husband to lung cancer several years ago, Musgrove began a labor of love researching, documenting, and contacting these unique restaurants and eventually compiling the Alabama restaurants into this first book in the State Back Road Restaurant Cookbook Series. The first book quickly became the fastest selling book in Great American Publishers' cookbook history. The success of that first book has led to more books in the series.
For more information about Tennessee Back Road Restaurant Recipes, visit the publisher's website at www.GreatAmericanPublishers.com or call toll-free 1-888-854-5954. The book is available locally at bookstores and gift shops as well as at many of the restaurants featured in the book. Get your copy today and start traveling Tennessee's back roads--deliciously.