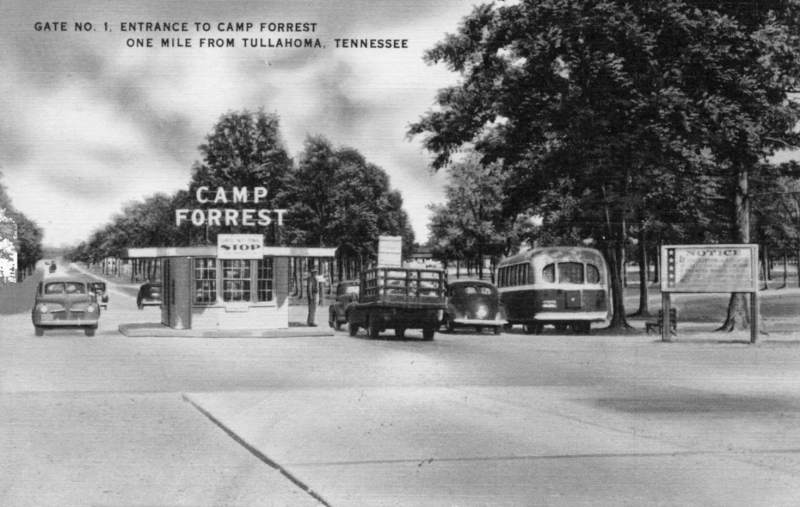 Before the establishment of Arnold Engineering Development Center and its unique aerospace testing facilities, part of the land Arnold Air Force Base sits on was used as one of the Army's largest training bases during World War II.

The camp, named Camp Forrest after Civil War Cavalry Confederate General Nathan Bedford Forrest, was active between 1941 and 1946.

The area is rich in history, but not many publications exist chronicling the historic significance of Camp Forrest.

Elizabeth Taylor, an author from Georgia, wanted to change this and recently set out to research all she could about the camp. The end result is the book "Camp Forest," part of the Images of America series printed by Arcadia Publishing. It is a photographic history of the soldiers who were trained there, the civilians who worked there, and the prisoners of war housed there.

"There's so little available out there about it," she said. "Other than a few websites and the book, 'Reveille to Taps,' there's not much beyond that on Camp Forrest."

Taylor explained though her career has been in public administration, history has always been an interest of hers, and recently she learned a colleague's relative worked at Camp Forrest and became intrigued by the place.

"I found the stories and the campus in Tullahoma so interesting," she said.

One such story is that of Richard Weinert, an Army Private, who while at the camp wrote letters to his girlfriend, Evelyn York of Shelbyville.

"The letters had different drawings on the envelopes, and even though Shelbyville isn't that far, they wrote to each other multiple times a week," Taylor said. "Each envelope is its own work of art."

Weinert was sent to fight overseas, but upon returning married York and together they moved to Wisconsin. Not so surprisingly, Weinert found work as an illustrator for magazines.

A few of the envelopes with Weinert's drawings can be found in Taylor's book.

However, this work of nonfiction begins at Camp Peay, the precursor to Camp Forrest, in 1926 and takes the reader on a journey through the life of the camp, which spanned 85,000 acres and served a training area for infantry, artillery, engineer and signal organizations.

She notes in the introduction of the book the sheer size of the camp, "It cost approximately $36 million to build the 1,300 buildings, 55 miles of roads and 5 miles of railroad tracks the camp contained. The 1,300 buildings consisted of 408 barracks, 158 mess halls, 14 officer mess buildings, 19 guardhouses, 35 warehouses, 20 administration buildings, 30 officer quarters buildings, a bakery, an ice plant, an incinerator, a cold storage building, a laundry, a water and sewage treatment facility, a dental clinic, and a 2,000-patient hospital."

The book also illustrates how the town of Tullahoma as a whole was affected by the installation of Camp Forrest. In 1940 Tullahoma's population was 4,500. By the end of the war, the population increased to 75,000.

Then in 1946 after the war ended, Camp Forrest and William Northern Field, its air training base, were declared surplus property. Buildings were sold at auction, torn down and carted away. Water and sewage systems and electrical systems were sold as salvage. All that remained were roads, brick chimneys and concrete foundations.

Since not a lot is left of Camp Forrest, the book helps bring the camp back to life for readers through photos of the day to day events during its existence. Taylor invites everyone the opportunity to learn about this historically significant place through her book. "Camp Forrest" is available now atwww.arcadiapublishing.com and local stores.