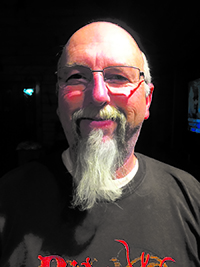 The owner of a popular local catering business was killed on Friday (Jan. 11) as the result of an accident on U.S. Highway 70S at the intersection with Cummins Hollow Rd.
Michael Anthony Alexander, 53, of Woodbury, was the only victim of the single-vehicle accident, according to the Tennessee Highway Patrol.
Alexander, along with his wife Christie, was the owner and operator of Christie Q BBQ and Catering. Their food truck regularly served customers at local events including the annual Good Ole Days and car shows around the Cannon County Courthouse Square.
According to the report filed by Trooper Ben Cannon of the THP, Alexander was driving a 1985 International model dump truck at around 3:11 p.m. Friday on U.S. Highway 70S (McMinnville Hwy.)
Cannon's report says the vehicle was traveling east bound and ran off the road to the right side, overcorrected, and went across both lanes of travel. When the vehicle got to the left side of the road, it rolled over and Alexander was ejected.
The report states Alexander was not wearing a seat belt and in the officer's opinion wearing one might have made a difference.
There were no other vehicles involved.
In addition to operating Christie Q Bar-B-Que, Alexander was a mail carrier for the United States Postal Service for 28 years in Smithville and a Director of Dekalb Telephone Cooperative representing Woodbury.