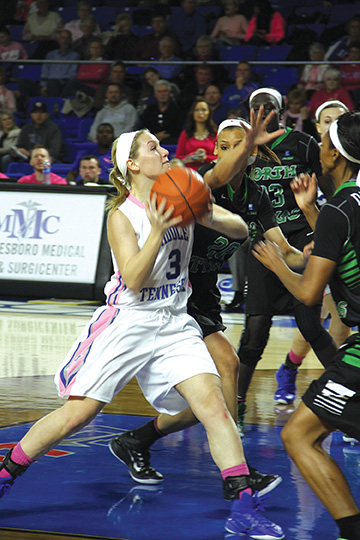 By DAVID HUNTER, The Cannon Courier
Growing up former Cannon County girls' basketball star and current collegiate freshman Abbey Sissom attended Lady Raider basketball games hoping one day to play for them. After a very successful career as a Lionette, she has made the transition to college basketball.
"It is really cool to be a part of all of this," Sissom said after practice last week. "Growing up, I have been coming to MTSU games since I was little. I have always been tied into the program, but to be a part of it is really cool."
Long time MTSU head coach Rick Insell has been pleased with her progress so far this season, and he is counting on her to step up as the postseason approaches.
"I am very pleased to have Sissom, and what she is doing," Insell said last week after another tough practice. "I think she has got a great future, and she shoots and handles the ball well. She has brought her defense to another level. She is a typical freshman. There is a lot of freshman that come in and they do not get a lot of playing time, but we are depending on her to make a move right now going into the tournament.
Heading into last Saturday's game against UAB, Sissom has played in 22 games, averaging 10. 2 minutes per game and 2.2 points per game. Her best performance came against Southern Miss on Jan. 15 when she played 28 minutes scoring 17 points, including going 5-for-10 from long distance in a Lady Raiders loss.
One of the reasons she chose MTSU was the chance to get to play close to home, and some fans who watched her here in Woodbury have decided to follow her Lady Raider career now
"It is really awesome," Sissom said. "One of the big pulls to MTSU was getting to play in front of my family, who have season tickets now. A lot of hometown people, who came to my high school games, they are here supporting me. That is a really a big plus of being here and giving me so much support.
Of course during her CCHS career from 2011-14, she was named Class AA Miss Basketball, and she helped lead them to three state tournament appear-ances to go along with many other career accomplishments. This season, she has been to a few CCHS games to watch her former teammates try to advance to another state tournament. However, her college education has come first since she has study hall at night, while the Lionettes are playing.
"I have been to a couple of games, but it is hard because we have to go to study hall every night," Sissom said. "I have been following them, and it is really cool they made it to substate. A lot of people did not think they could do that this year. They have overcome a lot of obstacles to get there and I am proud of them.
Current CCHS girls head coach Michael Dodgen coached Sissom during her high school career, and he is very pleased with the way she has handled the transition to college basketball so far
"A lot of people knew Sissom for how good of a basketball player she was, and she has worked hard both on and off the floor at an early age," Dodgen said. "She was an exceptional basketball player, and the thing about her not only was she great on the floor, but she was a great kid off the floor. She has a big heart, and she cared about a lot of people. I think she had handled it well. She is at a good program with good coaches and good players around her. She has been successful, and she will continue to be successful."