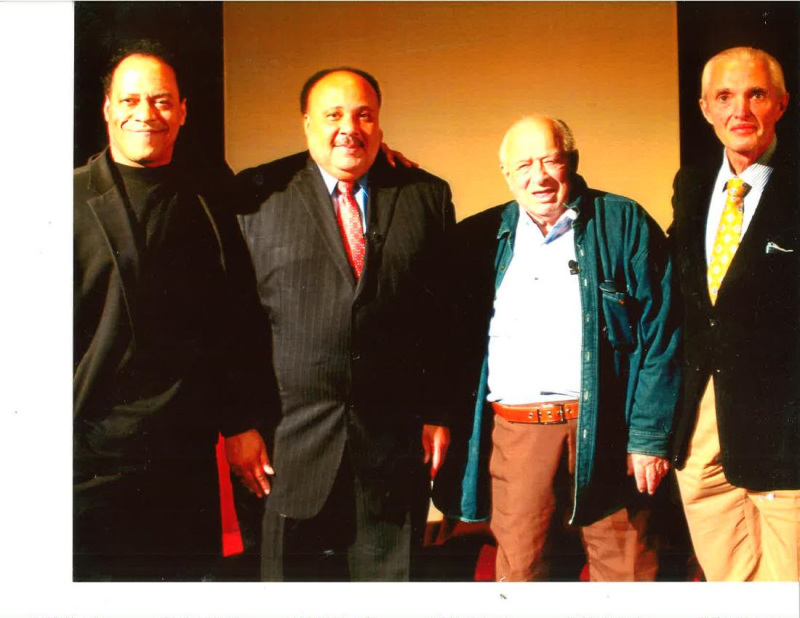 By MIKE VINSON
April 4, 2017: marks the 49th anniversary of the assassination of Reverend Martin Luther King Jr. (MLK), slain by a single sniper's bullet in Memphis, TN, April 4, 1968. As has been written MLK was the greatest voice, ever, for the Civil Rights Movement.
April 19, 1968: James Earl Ray, a white, career, petty crook and fugitive from justice, was named as MLK's assassin. Until the FBI's manhunt for 9/11 terrorist mastermind-financier Osama bin Laden, the manhunt for Ray was the largest in the Bureau's history.
June 8, 1968: Ray was arrested by Scotland Yard authorities at London's Heathrow Airport. Ray was extradited back to Memphis to stand trial. March 10, 1969, at the Shelby County (Memphis) Courthouse, James Earl Ray entered a 'guilty plea' in the MLK assassination and received a 99-year sentence. Ray later recanted his guilty plea, claiming he was led to Memphis by a mysterious smuggler named 'Raoul.'
Spring 1997: I became acquainted with Jerry Ray, younger brother of James Earl Ray. After learning I was a freelance writer, Jerry invited me to write about his brother, who was in the latter stages of liver disease. This led to me conducting a live, Q&A interview with James Earl Ray. The interview took place March 25, 1998, at the Lois M. DeBerry Special Needs Facility, a medical annex of then Riverbend Maximum Security Prison in Nashville, TN. The interview was published April 5, 1998, and Ray expired from liver failure April 23, 1998. My interview with James Earl Ray is the last live, Q&A interview conducted with him to be published, ever.
As I've stated in previous columns, I'm convinced James Earl Ray did not pull the trigger on the weapon that fired the shot that killed Reverend Martin Luther King Jr.
***
December 2012: Jerry Ray and I traveled to Knoxville, TN, and met with veteran Hollywood actor/director/producer Cylk Cozart, who has appeared in approximately 40 big-screen movies and TV shows: "White Men Can't Jump," "Conspiracy Theory" (movies), "Walker, Texas Ranger," Fresh Prince of Bel-Air" (TV), and many others. In addition to being a respected Hollywood actor, Cozart, part black-part Cherokee Indian, is a very close friend of Martin Luther King III, oldest living child of Reverend Martin Luther King Jr., and currently the president and CEO for the King Center, based out of Atlanta, Georgia. Martin Luther King III travels all over the world speaking to audiences about his late father's legacy. To say he is in 'great demand' would be a gross understatement.
Back to the 2012 Knoxville visit, I pitched an idea to Mr. Cozart, and he said, "I'm in!"
It was sometime in November 2015, and I was watching FOX News. Keeping a close eye on the scrolling headline alerts that run continually at the bottom of the screen, I saw where Martin Luther King III was scheduled to speak in Nashville, TN, on Monday/January 18, 2016, which was the Martin Luther King federal holiday.
(NOTE: Reverend Martin Luther King Jr. was born on January 15, 1929, and the third Monday of the month of January is a national holiday in his honor)
Common sense told me if Martin Luther King III was to speak in Nashville on Monday, January 18, 2016, he would be in Nashville on Sunday, January 17, 2016. I called Cylk Cozart and essentially told him: With Martin Luther King III scheduled to be so close in Nashville, and Jerry being 80-years-old and in poor health this could be our last chance to place the two men face-to-face in the same room.
After several weeks of logistical maneuvering, the deal was set: Martin Luther King III agreed to meet us at the Omni Hotel in Nashville on Sunday, January 17, 2016. On the top floor of the Omni in a fairly secluded area, camera crew in place, Cylk Cozart interviewed Martin Luther King III, Jerry Ray and me. Though the King family has long maintained they don't believe James Earl Ray killed MLK, Martin Luther King III asked Jerry: "I always wondered why your brother confessed to a crime he claimed he didn't commit?"
Cozart deferred the question to me, and I responded to Mr. King: First, James Earl didn't confess to anything; he merely entered a 'guilty plea' because he'd been threatened with the electric chair. Further, you must consider the inhumane conditions under which James Earl was jailed 9 months prior to going to trial. Authorities knocked out a wall dividing two cells and made one huge cell for him. He couldn't perform bodily functions in privacy--humiliation--bright lights were on him 24 hours a day, and when he would fall asleep out of sheer fatigue, a guard would come in and roust him--sleep deprivation. When his attorney would enter the cell to confer with James Earl, they would lay down on the floor, 'spoon' like a couple, and whisper, because they were being so closely monitored. When James Earl Ray entered a guilty plea, he had been deprived of sleep for 9 months, which drastically altered his mental capacity.
Martin Luther King III was surprised to hear these details, and it seemed to help clarify for him why James Earl Ray entered a guilty plea.
In closing, I'll state this:
*The fact that Martin Luther King III would take time out of one of his two busiest days of the year to be photographed standing shoulder-to-shoulder with Jerry Ray, brother of James Earl Ray, says 'more in one picture' than do a 100 slanted, politically correct media reviews.
*Indeed, it was an once-in-a-lifetime event for American history, because I found Jerry Ray dead, at age 80, on May 26, 2016. The photo you're looking at can never be shot live again; death dictates otherwise.
*James Earl Ray has been dead for nearly 20 years. However, Cylk Cozart and I plan to allow James Earl to 'tell his side of the story from the grave.' He deserves it; the public deserves it; and history deserves it!