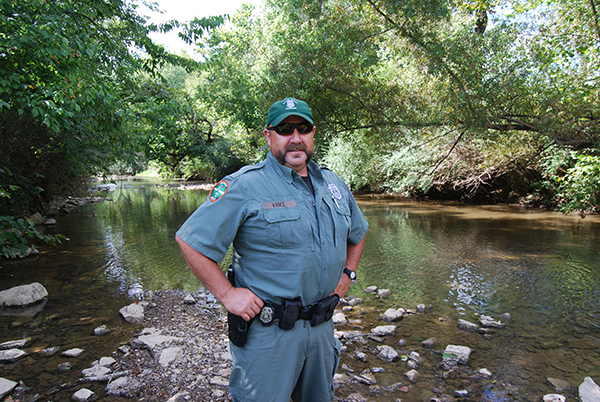 Queried as to what his job title is Mark Vance, who is all business about his vocation, gives an answer that reflects joviality.
"I am the wildlife officer for Cannon County, ergo the game warden, the possum sheriff, the rabbit sheriff, the coon cop and my favorite -- the fish fuzz."
Becoming a Tennessee Wildlife Resources Agency officer came natural for Vance. It just took him longer than most to figure it out.
After 18 years in management for Walmart, Vance, 52, reigns as the oldest wildlife officer in District 21. With eight years behind him with TWRA, he has covered Cannon County the past seven years.
"I wanted to do this in high school. My nickname was 'nature boy,' and I wore a game warden hat all through high school," said Vance, who was born the son of James and Margaret Vance and graduated from Gordonsville High School in 1985.
"The first time I was allowed to leave home alone with my pellet rifle, I was 10 or 11. It took me three tries to kill a squirrel. At 12 or 13, I got to carry my father's .22 hunting onto his 16 acres. My first time to go fishing by myself, I rode my bike to Caney Fork, so I fished rivers and farm ponds."
While his accent nowadays is purely Tennessee country, his first language was Spanish, which he picked up as a tot when his late father, a Missionary Baptist preacher, served as a missionary in Guadalajara, Mexico.
"This is my second career," said Vance, who earned three degrees at Tennessee Tech. First came a business management degree in 1990, followed by degree in wildlife in 2006. He gained a master's degree in biology in 2008 while writing a thesis on the American chestnut tree.
Vance, who lives with his wife, Lisa, in Woodbury, said he decided to leave Walmart after the death of its founder, Sam Walton.
"When he [Walton] passed away, his philosophy started going by the wayside. The employees were not the focus of the corporation. It was the almighty dollar. Things changed in the corporation. It wasn't fun anymore," shared Vance.
"With the job I've got now, it's something new and different every day. I have the freedom to work when needed. I can make my own schedule. Most days I get to be in the woods. I need to be out there when things are happening. An old game warden told me, 'It's good to be in odd places at odd times,' meaning it's good not to be predictable."
As for where his responsibilities lie, he says, "It boils down I enforce the hunting, fishing and boating laws of Tennessee, but I can enforce any laws on the books.
"My philosophy is to leave things better than I found it. If I can write somebody a ticket for something like throwing trash on the side of the road, and they never do that again, I'm a happy man. Same with hunting laws. If I can do what I do, and it be a little bit better when I'm done, then that's fine with me."

According to Vance the three major violations in Cannon County are hunting without a license, hunting over bait and fishing without a license.
Noting that deer season continues until the second Sunday in January, he offers the following message to hunters: "Be square. Have your license. Be where you're supposed to be -- have permission. Abide by game laws, and just because somebody does it on YouTube doesn't make it legal in Tennessee."
The wildlife officer said he gives an average of 35 to 40 citations a year in the county and the price for getting written ranges from a $50 fine plus $250 to $300 in court costs on up to $2,500.
While scanning the countryside for potential lawbreakers, Vance said he notices things such as a gate that hasn't been used all summer and then suddenly it's getting a lot of traffic or he might spot vehicles parked in places where he hasn't seen any for a while.
"I might just park in a place and listen for an ATV or a gun shot," said the pastoral sleuth, who confesses, "I've even made a couple of cases off Google Earth."
In prepping to be a wildlife officer, Vance attended the Tennessee Law Enforcement Academy in Donelson for 16 weeks and then received six months on-the-job training in Haywood County in West Tennessee.
Asked about the biggest changes he has seen since he began his career, he said, "We're making cases on social media now. People put pictures and dates and where they shot deer on there. Social media has an impact on our job."
Prepared to deal with any situation, Vance, like most wildlife officers, wears a Glock pistol on his hip. Attached to his "bat belt" are a baton, Mace spray, a tourniquet kit and handcuffs, while a shotgun, an AR rifle, night-vision goggles, binoculars and a GPS unit are stashed in his vehicle.
Vance puts about 20,000 miles a year on his 2015 Ford F150, which totes him to where the action is. When the trail gets hardier, he changes over to an ATV. And when push comes to shove, he hoofs it. This year he has hiked over 1,000 miles on foot through the woods and streams.
There is no such thing as a typical day for the officer. It depends on the time of year.
"If it's a Saturday in November, I might be up on my feet at 3:30 and in the woods by 4:30. I deal with hunter conflicts, respond to phone calls and aid injured animals. I got a call recently about an injured owl [it had been struck by a vehicle]. I had to euthanize it," he said.

His job occasionally takes him into other Middle Tennessee counties.
"I can write tickets anywhere," Vance said. "This summer I've been in court in Rutherford, Wilson, Smith and Sumner counties. My summer weekends I've been on water like Percy Priest, Old Hickory, Cordell Hull, Caney Fork and the Cumberland."
Balancing career with family life has been no picnic for Vance, who has been married 18 years and has two grown sons. "It helps in having a wife who understands and believes in what you're doing and thinks the way you do. We lay down the other night at 11, and I got a phone call. She said, 'Where you gotta go tonight?' And it's nice to have a good meal cooked for you after a hard day. It goes a long way. There is stress, and she becomes a hunting widow. I couldn't be here and do this if not for her," said Vance.
He shared that when he's deep in the great outdoors and has nabbed a lawbreaker whom he has been investigating for some time, he will notify his mate with a quick message.

"I send a text to my wife that says, 'Badda bing,' and she sends back, 'Badda boom.'"
Vance said he enjoys deer hunting with a bow and a muzzle loader, and that he and his wife put up two or three deer a year. He also likes to hunt rabbit and squirrel, and he and Lisa both love to fish.
Asked about any signs of larger predators in the area, he said, "Multiple 'sightings' of both cougar and bear have been reported, however, none have been substantiated by photo, track or physical evidence. There have been substantiated reports of bear in surrounding counties, but as yet none here in Cannon County. The likelihood of a verifiable cougar sighting is a stretch at best, as we have no populations closer than the Ozark mountains in Arkansas and the Florida panther.
"In the case of a bear, however, it is a different story all together. We here in Cannon County have a population within a three-to-four-day walk in portions of White and Cumberland counties. It is easily conceivable that a bear could be seen here any day, and all reports to me are investigated."
Vance noted that he received valuable mentoring from Derrick Triplett, who retired after 32 years as a wildlife officer in 2014, most of those in Smith County. "I worked pretty close with him in the water. He was a family friend. I always had respect for him before and after I started my career.
"My dad was a big influence on me thinking as I do today as far as wildlife and the environment in general. We spent an awful lot of time in the woods together. He was a schoolteacher, so we had a lot of time in summer and winter to get around and hunt, fish and trap.
"He taught me how to read signs and trap and where to look for certain things, when certain fish would be running. He was as big an influence and teacher of my woodsmanship as all my schooling. I learned as much or more from him as I did from any book," he said.
About the 266 square miles he covers in Cannon County, he said, "I try to see the beauty of it while I am walking. I try to take in the sights. I've seen 100 percent of East Fork of Stones River inside the county, and many places offer tremendous views."
As for the most dangerous game? Well, he might go along with the notion that it is man himself.
"I meet all kinds of people. Ninety-seven percent are good. Some don't come round. I do run across marijuana patches and stills. Luckily, I never found one operating. I've never been threatened. But running into marijuana, you never know. Sometimes it's like a dangerous snake. Sometimes you get a warning.
"Have I been scared for my life? Not really. I try to be as cautious as I can. Going out in the woods I meet a lot of people I know will have guns. There may be one I can see. There may be one I cannot see. I try to be cautions, use my training and the good sense God gave me."