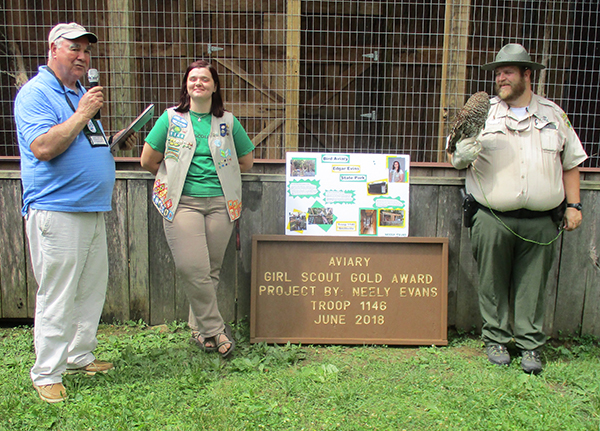 Lovely weather helped make the June 2 ribbon cutting party for the Storybook Trail and unveiling of the aviary at Edgar Evins State Park, Silver Point, an especially happy event for more than 200 guests. It was the culmination of over a year of work by the Friends of Edgar Evins State Park volunteers and park staff to bring about a special reading trail for children, plus dedication of the much anticipated bird aviary.
Giant signs printed with pages from the book, Where Butterflies Grow, were posted at approximately 60 yard intervals along the ½ mile easy hiking trail The purpose is to encourage youngsters to read as they enjoy being outdoors engaging in healthy exercise. It is endorsed by the Governor's Books From Birth and Dolly Parton's Imagination Library.
The new aviary was presented by the Friends of Edgar Evins State Park President, Fount Bertram of Bradyville, and Neely Evans, Smithville Girl Scout Troop 1146. Neely designed and built the aviary with help from family and friends as her Gold Project. The Gold Award is the highest Girl Scout achievement. The park now has one permanent resident, a hawk that may soon be named and is waiting for another bird of a different species to arrive soon. For the event Cumberland Mountain State Park loaned a barred owl so tame it did not need to be caged during the event although a park ranger stayed close by to be sure both owl and humans remained safe. People, young and old alike, were fascinated with seeing this bird up close and personal.
Ranger Ramble, the TN State Mascot and Tennessee's Outstanding Teen 2018, Miss Mary Humphreys of McMinnville, cut the ribbon, opening the trail for all who wished to hike and read the approximately ½ mile trail. Several Reading Guides were available to assist those who needed help. They were Lori Christensen, Woodbury, Tara Wohlgemuth, Cookeville, Kathy Hendrixson, Smithville, Lynn Brown, Brush Creek, and Holly Taylor, Silver Point. Ms. Taylor also gave a presentation on the life cycle of butterflies to all that were interested. Woodbury's Ron Davies and Smithville's Barbara Comfort and Jerry Comfort dished up over 300 hot dogs with chips and lemonade while Karen Goines, Manchester, served the cakes she had baked and decorated. Most kids and many adults enjoyed having their faces painted by Peggy Richardson of Brentwood, Emily Wallace and Hailey Rowland of Smithville.
Representatives from public libraries in three surrounding counties, DeKalb (Kathy Hendrixson), Putnam (Chelsea Gifford) and Smith (Susie Gilbreath), plus the Cookeville Children's Museum (Katherine Mifflin), provided crafts and activities for the children. In addition two Smithville Brownie Girl Scout Troops assisted. Troop 3094 (Tonya Hale and Jada Shinkle, Leaders) led children in crafts and passed out wings to all the kids who wished to wear them, solar powered butterflies to take home, and potted butterfly attracting plants they raised for transplanting in home gardens. Troop 3098 (Shannon Johns, Leader) provided table-top activities for children. Anna Bertram, Bradyville, introduced many key persons who helped with the trail and event. Also, Tim Stribbling, Mayor of DeKalb Count, was recognized among those attending. The event was covered by Jason Grider, live from Stonecom radio, Cookeville, and WJLE, Smithville.

Woodbury's Lori Christensen wrote and obtained small grants from Tennessee Trails Association and Friends of TN State Parks to help with the costs of the trail. The Friends of Edgar Evins State Park raised the rest of the money with events like the annual History Hayride and the Fall Color Boat Cruise in October and the Waterfall Tour in March. There are plans to continue enhancing the trail, making it wider, adding a bench and other amenities as time and money permit. It will be open year round during regular park hours. The book will be changed out for a new one at approximately one year intervals. Youngsters who hike the trail are encouraged to visit the park's gift shop in the office afterwards to sign the guest book and receive a souvenir bookmark. Applications will also be there to apply for free books to be mailed monthly to all Tennessee children under the age of 5 years through the Governor's Books from Birth Foundation.