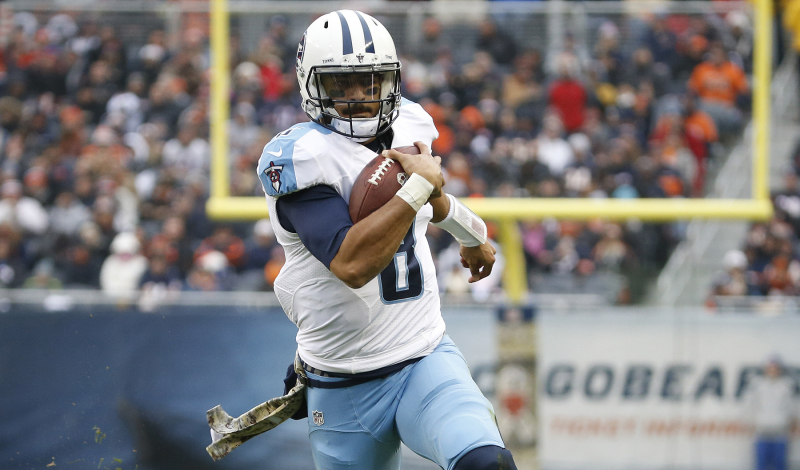 Cannon County High School will play host to Tennessee Titans quarterback and Heisman trophy winner Marcus Mariota on Tuesday, July 25 at 1 p.m.
Mariota and Saint Thomas Health are partnering to visit four Middle Tennessee high schools that day. CCHS is the final stop on the tour.

"First of all, it is a great honor for a celebrity like Marcus Mariota to visit Cannon County and the high school," Director of Schools Barbara Parker said. "He will be speaking to the students about making every day count in attendance and participation in school. Cannon County's slogan for the 2017-18 school year is "Every Day Matters." So Mariota's presentation will jump start the school year and the attendance initiatives that we have planned."
Parker said Mariota will be making a contribution to the CCHS Lions football team that will be matched by the NFL. "The St. Thomas Hospital Foundation will also be making a contribution to Cannon County High School, so this visit is also a profitable one for our high school programs." Parker said.

The entire community is invited to attend the events, which will feature a Q&A with Mariota. Doors will open at CCHS at noon.

Saint Thomas Health is part of Ascension, the nation's largest Catholic and non-profit health system.
Other visits that day are scheduled for White County High School in Sparta at 8:30 a.m., DeKalb County High School in Smithville at 10 a.m. and Warren County High School in McMinnville at 11:45 a.m.

"This is the first time we've partnered with Marcus on a high school tour as part of our ongoing relationship," said Andy Wachtel, CEO of Saint Thomas Highlands Hospital in Sparta, Saint Thomas DeKalb Hospital in Smithville and Saint Thomas Stones River Hospital in Woodbury.

"We appreciate very much Marcus' focus on the importance of physical activity, healthy eating and making healthy life choices. These are values that are very important both to him and to Saint Thomas Health," Wachtel said.

"We love working with Marcus, and this will be a great opportunity for youth and adults in these communities," said Dale Humphrey, CEO of Saint Thomas River Park Hospital in McMinnville. "We are especially glad to help Marcus carry the message of his Motiv8 Foundation to the middle Tennessee region."

Mariota established the Motiv8 Foundation during his rookie year in 2015 to promote and support a healthy mind and body among youth in Hawaii, Oregon and Tennessee.
Mariota grew up seeing the positive power of sport first-hand, which fueled his personal mission to use his platform as a professional athlete to create change. Driven by this mission, he established the Motiv8 Foundation during his rookie year (2015) to promote and support a healthy mind and body among youth in Hawaii, Oregon and Tennessee.

The Motiv8 Foundation aims to create and support economic and educational programs and athletic activities to provide an alternative outlet for youth of troubled neighborhoods and backgrounds. The Foundation's programming centers around the tools for success that will allow more children to fully matriculate through grade-school and eventually attend college.

Since its launch, the Motiv8 Foundation has awarded hundreds of thousands of dollars towards healthy lifestyle programming, and will continue to fulfill its mission through signature programs, strategic partnerships, and fundraising initiatives.

Symbolic of not only the Foundation's mission, the Motiv8 name also honors Mariota's connection to his lifelong jersey number, and the "808" area code of his hometown, Honolulu, Hawaii. As President of the Foundation, he oversees all programming decisions and drives fundraising efforts.
Marcus Mariota and Saint Thomas Health began working together in 2015.