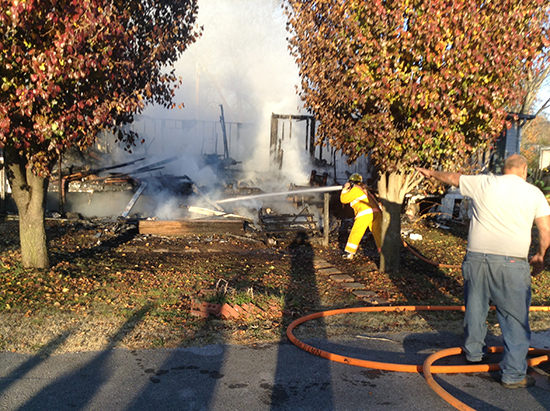 A house fire on McFerrin Street in Woodbury claimed the life of a family pet Tuesday afternoon.
Homeowner Toni Ferrell said three people inside the residence, including her son and his infant child, escaped unharmed after they were alerted by a neighbor to the fire, which started around 3 p.m.
Ferrell said her Chihuahua was inside the house and was unable to get out.
Ferrell, who works nearby at First Stop Market, said she was on her way home and was near Woodbury Grammar School fire when she realized it was her home of 17 years that was engulfed the flames.
Most of the house was destroyed. The Woodbury Fire Department responded to the fire.
"Everybody got out but my Chihuahua. If it hadn't been for a neighbor who saw the fire my son and their three-month-old baby would have died in that house. I came home from work and I'm going to get my grandson who I am raising from kindergarten and I saw the smoke and I said 'oh my God, that's my house,'" Ferrell said. "We lost everything. We have nothing."
The cause of the fire is under investigation. Ferrell thinks it may have started on the front porch in a container used to put out cigarettes.