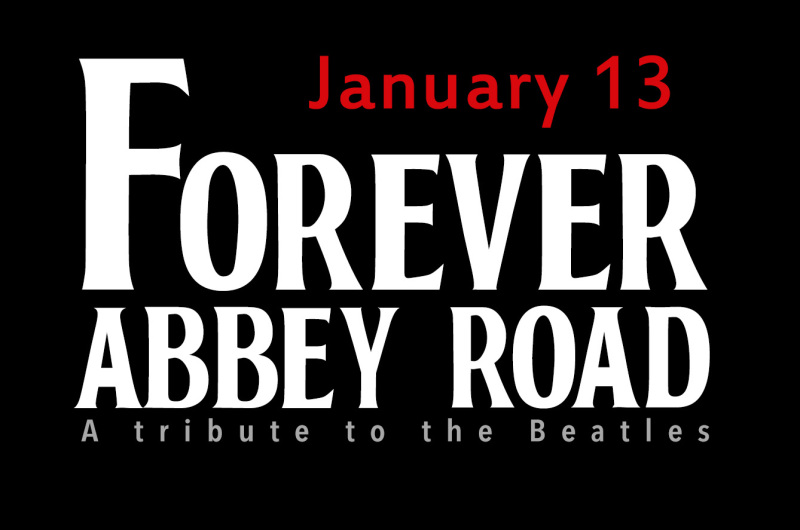 The Arts Center of Cannon County presents
FOREVER ABBEY ROAD
Back by Popular Demand!
January 13 at 7:30PM All tickets $15
The Saturday night show for Forever Abbey Road has sold out. A Sunday matinee has been added.
"Sgt. Pepper" is known as one of the most creative and complicated albums ever made and Forever Abbey Road is one of the only groups around the entire world who is performing the album in it's entirety!
"It was 50 years ago, Sgt. Pepper taught the band to play..." To celebrate the 50th Anniversary of the Beatles' Sgt. Pepper's Lonely Hearts Club Band, Forever Abbey Road will perform the album in it's entirety along with a full set of The Beatles' most famous hit songs like "Hey Jude", "She Loves You", "Can't Buy Me Love", "Come Together", "Here Comes The Sun", "Twist and Shout", and so many more...
Forever Abbey Road is comprised of professional Nashville musicians and songwriters who were brought together by being hired to work with the same artist. They quickly realized that the Beatles had inspired all of their lives and musical careers and decided to create a group to pay tribute to the Beatles. Instead of wearing wigs or make up, the band spends all their time creating a show that demonstrates what the Beatles might sound like if they were around today with current technology and modern rock energy.
From the Beatles' early years of "She Loves You" and "I Want to Hold Your Hand" to the psychedelic period of "Sgt. Pepper's Lonely Hearts Club Band" to their later years of "Hey Jude" and "Let it Be" - Forever Abbey Road performs it all with exciting energy, heart and accuracy. The band has been invited to perform at the biggest Beatles festival in the world and is quickly becoming known as one of the most entertaining Beatles revues around. Tickets are $15 and may be purchased by calling the box office at 615-563-2787 Tuesday through Saturday from 10:00AM to 4:00PM or online at www.artscenterofcc.com.
The Arts Center is located at 1424 John Bragg Highway, just west of the town of Woodbury, approximately 20 minutes from Murfreesboro, Manchester, and McMinnville and one hour southeast of Nashville Office hours are 10:00a.m. to 4:00p.m., Tuesday through Saturday. For more information check our website at www.artscenterofcc.com or call 615-563-(ARTS) 2787.
If You Go

Who: Forever Abbey Road
Where: The Arts Center of Cannon County, 1424 John Bragg Highway, Woodbury, TN
When: January 13 at 7:30PM
Tickets: $15
Contact: (615) 563-2787