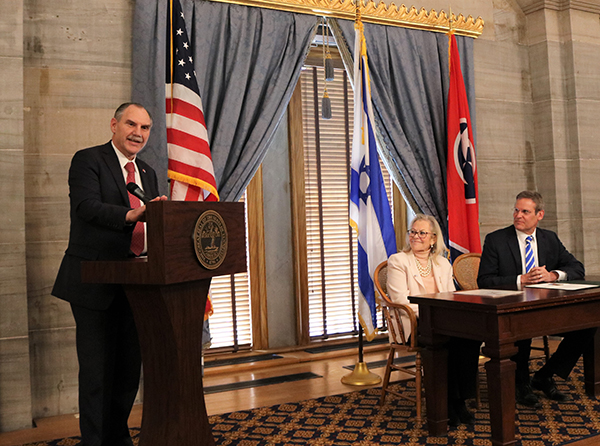 NASHVILLE - A resolution sponsored by State Senator Mark Pody (R-Lebanon) that reaffirms Tennessee's friendship with Israel and expresses unequivocal support for the nation, unanimously passed the State Senate on Thursday. The resolution also recognizes Israel's longstanding relationship with the U.S. and notes joint military efforts between the two countries in fighting terrorism.
"I think it's important that as a state we stand up and reach out to Israel as we have done in the past and express our support for the nation."
Passage of the resolution follows controversy earlier this week surrounding an anti-Semitic social media post from U.S. Representative Ilhan Omar (D-MN).
In 1996, former Governor Don Sundquist signed the Tennessee-Israel Cooperation Agreement with Israel, resulting in business, government, art, cultural, educational and university activities that strengthened the historic ties between Tennessee and Israel.
In 2015, the General Assembly voted to approve a resolution which condemns the Boycott, Divestment and Sanctions (BDS) movement and increasing anti-Semitism. The BDS movement, for which Omar has expressed support, encourages companies to boycott Israeli goods and services.
"It is imperative that we must, at every turn, fight anti-Semitism and in all ways possible stand with the Nation of Israel," said Pody.