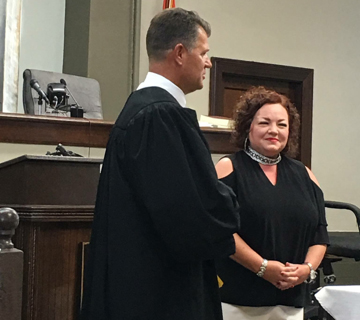 Nathan S. Nichols, Cannon County's Clerk and Master, has announced his intent to step down from the post at midnight on August 5, 2017 to return to the practice of law. Upon receiving notice of Nichols' intended departure, Chancellor Howard W. Wilson appointed Chief Deputy Clerk and Master Dana Morris Davenport to replace him.
"I have always felt that, when you accomplish your goals for a particular position, it is time to move on and give someone else the chance to step up and serve. I feel my goals for the Clerk and Master's office have been met and it's time to move on. It has been one of the great honors of my life to serve as Clerk and Master, and I am truly grateful to Chancellor Wilson for the opportunity," Nichols said in announcing his intentions.
During his time as Clerk and Master, Nichols made significant changes to the office which included accepting credit cards as a form of payment for court costs and delinquent property taxes, working with the Judges to implement procedures which finally give domestic violence victims access to an order of protection 24 hours a day, and generating enough county revenue each year to fully fund the operations of the office, giving taxpayers back every dollar they spent funding it.
Nichols also reunited litigants with almost $80,000.00 in unclaimed court funds.
In conclusion, Nichols said, "I have proudly devoted my entire adult life to serving the people of Cannon County and, hopefully, this is just a brief pause as I consider the next way I can serve them."
Commenting on Nichols departure, Chancellor Wilson said, "I have been so impressed by the positive changes Nathan has brought to the Clerk and Master's office. He has been a wonderful Clerk who worked tirelessly to modernize the office and make it more efficient and cost-effective for taxpayers. I wish him well in the future."
Nichols served as a deputy circuit court clerk and law clerk to Judge Susan Melton from 2001-2011, a Cannon County Commissioner representing the first district from 2006-2010, and an assistant district attorney general prosecuting felony offenders in Circuit Court from 2011-2015. He was also the Republican Party's nominee for Circuit Court Judge in 2014.
Cannon County's new Clerk and Master, Dana Morris Davenport, is a lifelong resident of Cannon County and a 20-year employee of the Clerk and Master's Office. She served under four different Clerks and has been chief deputy of the office for the majority of her career. Dana resides right outside of Woodbury with her husband Corey and daughter, Courtney. She is the daughter of Danny and Debbie Morris and a member of the Woodbury Church of Christ.
"I am very honored to have been appointed by Chancellor Wilson to serve in this important position within our court system. I will do my best to run an efficient office which provides the best service possible to the citizens of Cannon County" Davenport said.
In announcing her appointment, Chancellor Wilson said, "Dana has been a loyal and valuable employee of the Clerk and Master's office for many years and I have the utmost faith in her abilities. Her 20 years of experience in this office will ensure she will be an excellent Clerk for the people of Cannon County."
Dana will begin serving as Clerk and Master on August 7, 2017.
Nichols has accepted the position of Assistant City Attorney for Smyrna.