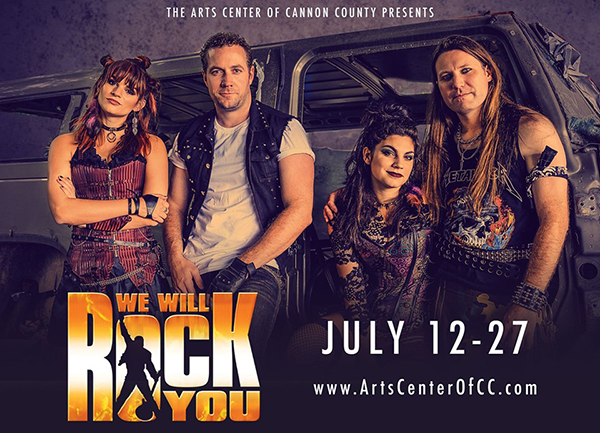 The Arts Center of Cannon County presents "We Will Rock You" from July 12-27.
We Will Rock You tells the story of a globalized future without musical instruments. A handful of rock rebels, the Bohemians, fight against the all-powerful Globalsoft company and its boss, the Killer Queen; they fight for freedom, individuality and the rebirth of the age of rock. Scaramouche and Galileo, two young outsiders, cannot come to terms with the bleak conformist reality. They join the Bohemians and embark on the search to find the unlimited power of freedom, love and Rock!
Since 2002 over 15 million theatergoers in 17 countries have been thrilled by this awe-inspiring production which is based on the songs of Queen with a book by Ben Elton (The Young Ones, Blackadder, Popcorn). Elton fashioned this hilarious futurist comedy around more than 24 of Queen's biggest hit songs including We Are The Champions, Radio Ga Ga, I Want To Break Free, Somebody To Love, Killer Queen, Don't Stop Me Now, Under Pressure, Bohemian Rhapsody, Another One Bites The Dust and of course, We Will Rock You.
We Will Rock You stars John & Brittany Goodwin, Kelsey Steele, Nathan Lamb, Memory Strong Smith, Robbie Craze and Matt N. Smith, along side a multi-talented ensemble.
This show is directed by Matt Smith and produced by John Goodwin with music direction by Brittany Goodwin, and choreography by Regina Wilkerson Ward..
Performances run July 12, 13, 19, 20, 26, 27 at 7:30 p.m. and July 14 & 21 at 2:00 p.m.
Tickets are $15 with discounts available for students and seniors and can be purchased by calling 615-563-2787 Tuesday through Saturday 10AM-4PM or online at artscenterofcc.com and (subject to availability) at the door one hour prior to show time. WE Will ROCK YOU is rated PG13 and is sponsored Ethan Campbell of Edward Jones.
The Arts Center is located on 1424 John Bragg Highway, just west of the town of Woodbury, approximately 20 minutes from Murfreesboro, Manchester, and McMinnville and one hour southeast of Nashville. Office hours are 10:00a.m. to 4:00p.m., Tuesday through Saturday. For more information call 615-563-(ARTS) 2787. Check out our web site at www.artscenterofcc.com.
We Will Rock You is Rated PG-13 for mild language and adult content
If You Go:
What: We Will Rock You
Where: The Arts Center of Cannon County
When: July 12-27
Tickets: $15
Contact: (615) 563-2787 or online at artscenterofcc.com