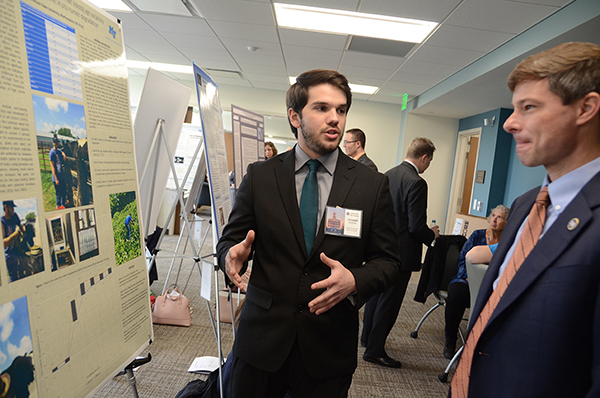 NASHVILLE -- The Middle Tennessee State University undergraduate students' research topics ranged from kudzu to ginseng to volcanoes and more.
Fifty-five other state university students joined MTSU with their own variety of research subject matter at the annual Posters at the Capitol at the Tennessee State Capitol in Nashville Tuesday (Feb. 26), showcasing their work to legislators and others.
In addition to MTSU, other universities participating included Austin Peay, East Tennessee State, Tennessee State, Tennessee Tech, University of Memphis, University of Tennessee-Chattanooga, UT-Knoxville and UT-Martin.
It marked the first time for Greg Rushton, first-year director of the MTSU Tennessee STEM Education Center, to attend the posters event. He called it "a fantastic day."
"It's exciting to share the impressive contributions to our understanding of the social, literary and natural world with our state representatives and senators during this event," Rushton said.
"The quality of the work being carried out by undergraduates at our coalition institutions and the confidence and passion the students express about their projects speaks highly of the experiences provided to them by their faculty mentors," he added.
Abigail "Gail" Choisser, an MTSU senior geosciences major from Murfreesboro and mentored by department Chair Warner Cribb, studied different science-related aspects of the Mt. Hood volcano in Oregon.
"This study examines the relationships between density, viscosity, chemical composition, mineralogical content and percent of the degree of structural order in intermediate magmas (molten or semi-molten natural material) at the Mt. Hood Volcano in the Cascade Range," Choisser said in her project summary.
Mineralology specializes in the study of minerals -- their distribution, identification and properties.
Other MTSU undergraduate researchers selected for the capitol event included:
• Tessa Antonelli, a senior history major from Murfreesboro, whose study was on American serial killers in the 1970s. Her mentor is assistant professor Molly Taylor-Polesky.
• Caldwell "Cal" Charlet, a senior fermentation science major from Nashville, Tennessee, who explored a specialized area of ginseng. His faculty mentor is School of Agriculture assistant professor Seockmo Ku.
• Joseph Gulizia, a senior agriculture major from Fairview, Tennessee, who studied early and late season kudzu leaves during different growing seasons. His mentor is ag professor Kevin Downs.
• Hanna Hall, a senior biology major from Murfreesboro, whose investigation was in the Norton/Cynthiana variety of grapes. Her mentor is professor John Dubois.
• Haylee Lindgren, a social work major from Murfreesboro, whose research involved service dogs in the classroom for children with autism. Her mentor is assistant professor Nikki Jones.
• Sabrina Spicer, a senior chemistry major from Murfreesboro, whose research team identified a molecule known as a tripeptoid that holds the potential to fight fungal infections which are particularly dangerous to immuno-compromised persons. Her mentors are chemistry assistant professor Kevin Bicker and biology assistant professor Erin McClelland.
Gulizia said data that was conclusive made it a successful research effort. "A challenge I faced was not knowing proper techniques to utilize while conducting research," he added. "There was a deep gap in knowledge regarding correct techniques Dr. Downs helped me address, allowing me to continue my research independently."
MTSU 2018-19 Faculty Senate president and history professor Pippa Holloway said the Posters at the Capitol event "showcases the exciting research being done by MTSU undergraduates under the guidance of MTSU faculty."
"For undergraduate students at MTSU, the university experience involves learning from professors who are nationally and internationally known for their professional expertise, research and creative works," added Holloway, who came to show her support. "Teaching involves not just imparting knowledge, but involving students in faculty projects so that they learn to think critically, analyze data, generate their own creative projects and communicate the results of research."
Holloway said she and others who attended "saw some of the results faculty mentorship of undergraduate research on display at this event, and I was impressed by the quality of the research as well as the poise with which MTSU students interacted with visitors to the exhibit."
John Hood, director of government and community affairs at MTSU, alumnus and former member of the Tennessee House of Representatives, once again attended. He talked with students at their posters and visited with Randy Boyd, the first-year UT-Knoxville president.
MTSU students also met finance professor Charlie Baum, who is only in his second month as a member of the state House of Representatives after being elected in November.
"MTSU students are conducting some amazing research in the STEM areas (science, technology, engineering and mathematics) and will make a real difference in our community and state following graduation," Baum said.
Before heading back to Murfreesboro, the students posed for a group photo with their peers and then met with state Sen. Dawn White, an alumnus (Class of 2002).
MTSU has more than 300 combined undergraduate and graduate programs.