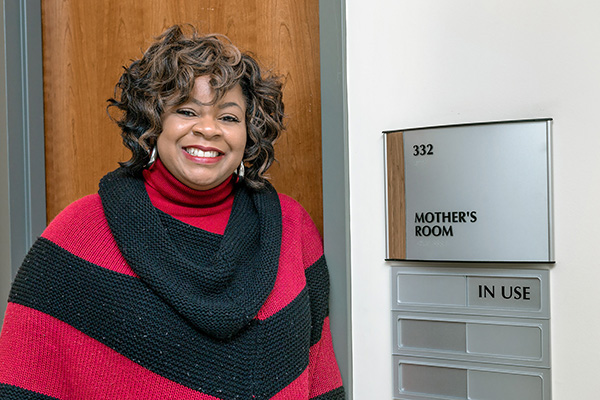 MURFREESBORO -- Now members of the MTSU campus community have a place where they can pump breast milk or breastfeed their babies in peace and privacy.

The Division of Student Affairs, Enrollment and Academic Services, in conjunction with the June Anderson Center for Women and Nontraditional Students, has renovated a former break room to accommodate nursing mothers.

Room 332 in the Student Union, known as the Mother's Room, includes three large plush, blue chairs with large triangular armrests. Blue and gray curtains can be pulled around each chair to ensure privacy. The room also includes a table and four additional chairs and a sink.

"It gives them the room and the privacy they need when they're actually breastfeeding a child or when mothers need to pump breast milk," said Barbara Scales, director of the June Anderson Center.

The President's Commission on the Status of Women has advocated for this sort of facility for years, and the group's persistence paid off. Danny Kelley, assistant vice president for student affairs, said the idea was already on his agenda.

"I definitely thought there was a need just based on the demographics of our students," Kelley said.

Katie Foss, an associate professor of media studies, is author of "Breastfeeding and Media: Exploring Conflicting Discourses that Threaten Public Health." She sees the new Mother's Room as a positive development.

"I think it is fantastic that MTSU is providing this space for nursing mothers," Foss said. "I hope this leads to more rooms like this on campus, say near the (James Union Building)."

Conveniently located just around the corner from a women's restroom, the Mothers Room is a former break room that was not used very often because of the many comfortable places to have lunch in the Student Union.

By providing this option for breastfeeding mothers, Scales believes the Mother's Room will be another asset in MTSU's continuing drive to promote student retention and graduation.

The room is available whenever the Student Union is open. The building's regular hours of operation are 6 a.m. to midnight Monday through Friday, 8 a.m. to midnight Saturdays and noon to midnight Sundays. Hours will be decreased during university holidays and breaks. For more information, contact Scales at 615-898-5812 or barbara.scales@mtsu.edu.