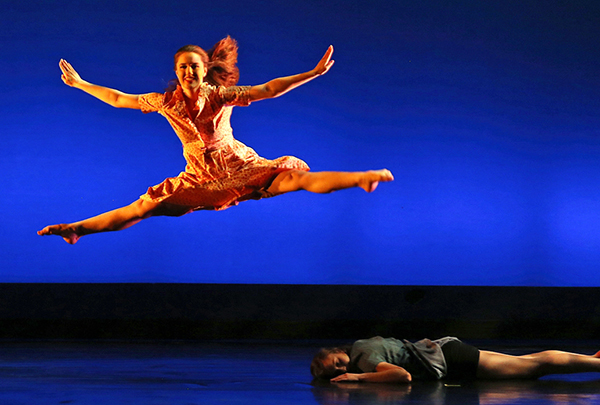 MURFREESBORO, Tenn. -- Students on the only full dance degree track in Tennessee are ready to display their talents after collaborating with two top professionals.

The MTSU Dance Theatre's fall dance concert is scheduled for 7:30 p.m. on three successive nights -- Thursday, Nov. 29; Friday, Nov. 30; and Saturday, Dec. 1 in the Boutwell Dramatic Arts Building's Tucker Theatre auditorium. A searchable campus parking map is available at http://tinyurl.com/MTSUParkingMap.
The pre-professional performing company of more than 30 performers will perform faculty and guest artist choreography along a wide variety of themes ranging from the environment to race and gender identity.

Two guest artists have choreographed original work created during a visit with MTSU students and faculty in September. Rebecca Steinberg, a company dancer with Nashville-based New Dialect, created a piece titled "The Clearing" in a contemporary creative process with student dancers. The dance represents the beginning of a collaborative relationship between MTSU and New Dialect.

Katherine Duke, artistic director of the New York-based Erick Hawkins Dance Company, created a new work, "Junoesque," with associate professor Marsha Barsky, assistant professor Meg Brooker and lecturer Chell Parkins, all of the MTSU dance faculty.

Barsky's "Left Behind" will reflect on the destructive impact of plastic waste in the oceans. Brooker's "Women with Wings" will depict a journey from fragility to personal strength. Parkins' "Raiz" will use movements inspired by Katherine Dunham's technique to explore complexities of race and colonization in Puerto Rico.

Adjunct faculty members also will contribute their choreography. Jennifer McNamara will stage a performance from "Coppelia, Act III." Jade Treadwell's "BOUND" will investigate both inherited and embodied human responses to fear. "Laurel Walker's "Control" will interpret society's responses to anger, particularly children's experiences with that emotion.

In addition, a unique silent auction to benefit dance scholarships at MTSU will accompany the concert. Items up for bid include gifts from the Nashville Predators, the Tennessee Titans, Pure Barre, The Dance Store, Bongo Java, Nothing Bundt Cakes and other donors.

General admission tickets are $10 per person or $5 for K-12 students and seniors. They are available at www.mtsuarts.com or www.mtsu.edu/theatreanddance. MTSU student tickets are free at the box office on the night of the performance with student identification.

For more information, contact Brooker or Barsky at 615-898-5023, margaret.brooker@mtsu.edu or marsha.barsky@mtsu.edu.