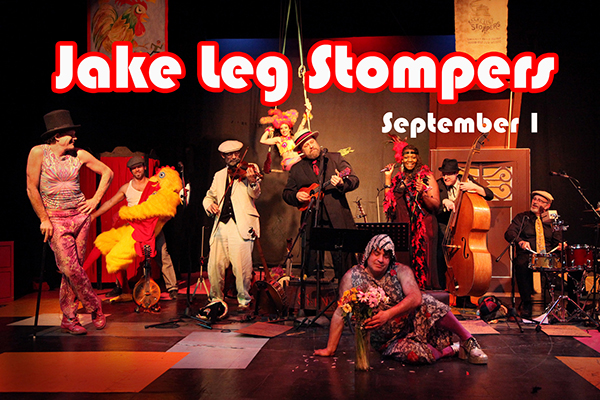 The Jake Leg Stompers and the Eggplant Faerie Players bring "Dust Bowl to Dance Hall: A Story of American Music" to the Arts Center of Cannon County for a special, one time performance on Saturday, September 1st at 7:30 p.m.
In true Vaudeville style, featuring circus tricks, juggling displays, period instruments, spectacular costumes, and special surprises, "Dust Bowl to Dance Hall" traces the history of American vernacular music from early 19th century plantation dances to the rise of popular song after World War II.
"This is a show we have been talking about doing for many years, bringing together the wonderful variety of the earliest recorded American music, from blues and ragtime to folk and gospel to the birth of rock and roll," says Bill Steber, co-founder of the Murfreesboro-based jug band, the Jake Leg Stompers. "But telling the story of this rich musical tradition in collaboration with the supremely talented Eggplant Faerie Players really brings the show to life, and gives the audience a taste of a truly original American art form--Vaudeville. This is the show we've been preparing for our whole career."
The Jake Leg Stompers were founded in Murfreesboro in 2004. They have released 4 albums, and are the 2018 winners of the Jug Band competition in the Uncle Dave Macon Days music festival held annually in Murfreesboro.
The Eggplant Faeries players have decades of work in theater and a mastery of circus performance, including juggling, unicycle, stilt walking and physical feats to entertain and delight.
All ticket prices are $15 and may be purchased by calling 615-563-2787 10am to 4pm Tuesday through Saturday or online at www.artscenterofcc.com. The Arts Center is located on 1424 John Bragg Highway, just west of the town of Woodbury, approximately 20 minutes from Murfreesboro, Manchester, and McMinnville and one hour southeast of Nashville.
If You Go:
Who: The Jake Leg Stompers and Eggplant Faerie Players
When: September 1 at 7:30pm
Where: The Arts Center of Cannon County, 1424 John Bragg Highway, Woodbury, TN
Admission: $15
Phone: (615) 563-2787
Website: artscenterofcc.com