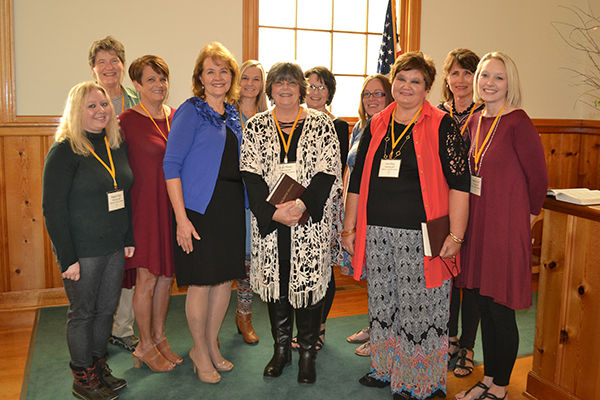 "Nobody cares what you think until they know you're going to die and then they will listen," advised Jackie Sue Taylor of Lebanon, TN. As keynote speaker at Knowing God women's conference on September 30th, she challenged women of all ages to know God and deepen their love relationship with Him. This gathering of 118 ladies at Auburn Baptist Church provided an inspirational day of worship and fellowship.
Author of The Great Physician and Carrots, Jackie Taylor is a four-year breast cancer survivor. When diagnosed in 2013, the cancer was expected to be in a major organ or cause her death within a year. And that was with chemotherapy; which she declined. After managing her cancer through juicing and a radical change in diet, an 18-month blood test was perfect. Her oncologist refers to Jackie as a "Miracle." She eats only organic foods and zero refined sugar. "Sugar is to cancer what gasoline is to fire," she warned. Additionally, she tries to avoid negative emotions and clings to God's promises through daily prayer and Bible study.

"My heart's desire is to know God and make him known--nothing else makes much sense," said Jackie. Her keynote address at the Knowing God women's conference, provided a glimpse of her life's journey. In 2014 Jackie won the Ms. Wilson County contest. With her story telling talent taken on stage, along with her natural beauty, she captured the hearts of judges and audiences alike. She used this platform to witness and share her faith at every public appearance.

"It has been a lot of fun preparing for the Knowing God women's conference" reported Anita Thomas, wife of Auburn pastor Larry Thomas. An accomplished vocalist, she sang My Redeemer Is Faithful and True just before the speaker's presentation.

After Jackie Taylor's keynote address, women continued the "Queen for A Day" event with a bountiful meal and door prizes in the churches' Activity Center. While speaking to the women, Jackie admonished reading the Bible every day. "This is God's letter to you", she said. "shame on you if you do not read it. We were created for a relationship not a religion."