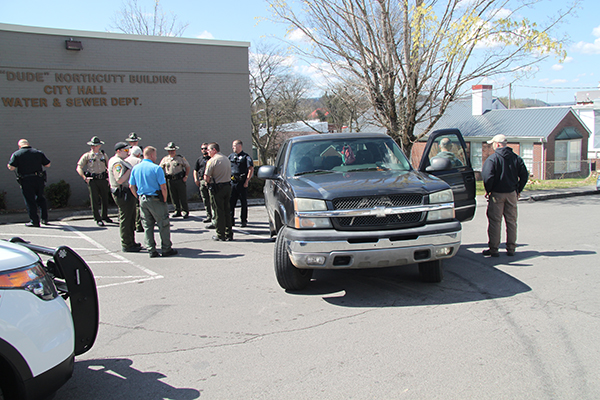 A police chase for robbery suspects which started in Warren County ended in front of Woodbury City Hall Tuesday morning.
According to information provided by Cannon County Dispatch, Warren County Sheriffs Deputies were in a high speed pursuit of black pickup truck possibly involved in an armed robbery in Warren County.
The Cannon County Sheriffs Dept and Woodbury City Police were successful in stopping the vehicle near the Woodbury City Hall. The suspects were quickly taken into custody.
According to a report by 960 WBMC radio station in Warren County, three suspects in the vehicle were arrested in connection with an alleged robbery that occurred inside a motel room earlier that morning.
The victim told police he was lured to the motel room by an acquaintance, but when he arrived he was robbed at gunpoint. He ran to a nearby restaurant and called police.
An officer spotted the Chevy Silverado reportedly being driven by one of the suspects. He led police on a pursuit that finally ended in Woodbury after the vehicle ran over a set of spike strips that had been deployed by Cannon County officers.
The driver was identified as 20 year old Nicolas Flores. Two underage females were in the vehicle with Flores. They were said to be runaways from Ooltewah.
Flores has been charged with evading arrest, reckless endangerment, aggravated robbery and manufacture, delivery, sale of methamphetamine in Warren County.
A little later in the day, other suspects in the robbery were spotted in a vehicle near Warren County Middle School. The Middle School and Bobby Ray Elementary were placed on lockdown as officers took Samantha Brewer, Leo Garcia and Rafael Lopez into custody. Brewer was not charged in the robbery, but was wanted on outstanding warrants elsewhere.