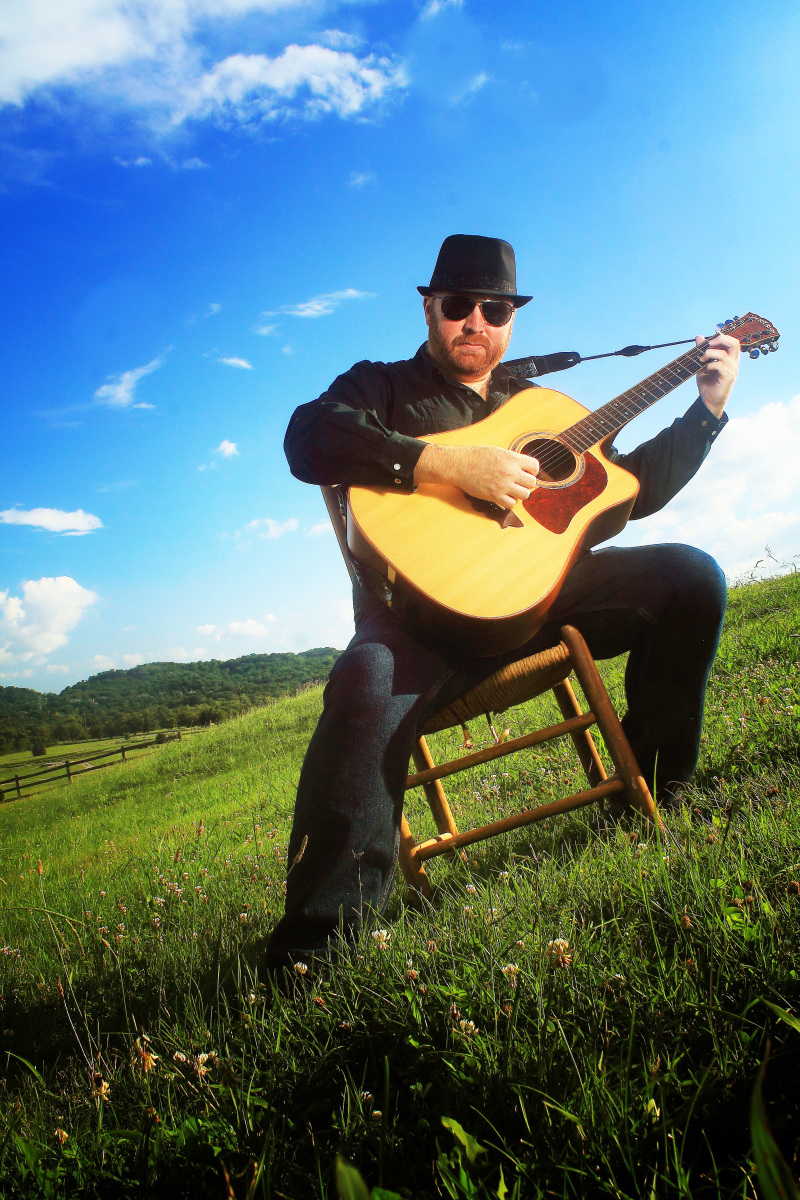 KEN BECK
The Cannon Courier

For a professional musician, Woodbury's quiet, unassuming John Salaway is about as low key as they come.
But there are loads of things about which he can get excited.
For starters, he wrote every song and played practically every instrument on his new solo album, Down the Road of Life.
And it's a fact that earlier this year, Indie Ville TV tapped him as Nashville's pop artist of the year.
As for cool gigs, he performs every Friday afternoon at B.B. King's Club in downtown Nashville.
His pals in the pop-rock world include, just to name a few, the likes of Peter Frampton, Ben Folds, Denny Laine and Gordon Kennedy.
And how about his 14-year-old daughter, a singer, pianist and ukulele player, who may be following in his shoes?
But if you really want to get Salaway's adrenalin to kick in, ask him about his favorite band, a quartet of mop-headed lads from Liverpool that hit the States a bit over 50 years ago.
"Playing Beatles music is my favorite thing to play. It brings joy to people," said the singer-songwriter, 39, who can play anything with strings or keys or that can be hit.
"The first Beatles album I bought was Sgt. Pepper. I took it to my room and completely devoured it. That one and Abbey Road are my favorites."
A fine artist in his own right, for the past two year, Salaway has opened concerts for rock star Denny Laine, who collaborated with Paul McCartney and a few other blokes in the band Wings ("Band on the Run," "Jet," "Listen To What the Man Says"), and also handles bookings for the Grammy-winning Brit singer.
But he probably considers his best role is being a member of Forever Abbey Road, a Beatles cover band.
The group includes Adam Therrien on guitar and vocals, Josh Horne on lead guitar and vocals, Jay Szalay on bass guitar, Mike Cap on keyboards and vocals, and Salaway on drums and vocals.
The band has played about two dozen dates this year, including a prime spot on stage during Abbey Road on the River, the biggest Beatles music festival in the world (the event is held Memorial Day weekend near Louisville, Ky.).
Local folks can catch the act this weekend as they star in Christmas With the Beatles and Friends at 2 and 7:30 p.m. Saturday (Dec. 17) at the Arts Center of Cannon County. Tickets are $20.
"The Beatles only have a couple of Christmas songs so we're doing their songs along with some Christmas songs by some of their friends like Tom Petty, Bruce Springsteen and Chuck Berry. But we'll be doing plenty of Beatles hits: highlights from Sgt. Pepper's Lonely Hearts Club Band, the Golden Slumbers medley, a bunch of their early hits like 'She Loves You' and 'I Wanna Hold Your Hand' and then 'Let It Be' and 'Hey Jude.' All the stuff people would want to hear," said Salaway.
"A string quartet will be there with us. They're all members of the Music City Strings, and they'll join us on songs like 'Eleanor Rigby.' They're marvelous players, and they've worked out some incredible arrangements."
This will be his sixth Beatles show act at the arts center and the third time for Forever Abbey Road to appear here. They have sold out on each occasion.
Born in Long Island, N.Y., Salaway grew up in the beach town of Sarasota, Fla. His roots are still in New York, but Middle Tennessee is growing on him.
Middle Tennessee State University was the draw that brought him here in 2003 with no money and lots of faith. Three years later he found himself a single dad with a 4-year-old daughter and holding a music business degree in hand.
His young 'un, Elizabeth Love, 14, attended West Side Elementary through eighth grade, but he is presently homeschooling her.
He notes, "She's a huge Beatles fan like her dad and going into the pop phase."
While a student at MTSU, Salaway lived in the Boro, but then he discovered the Moonlite Drive-In in Woodbury.
"I took my daughter about every weekend. Going down Highway 70, it opens up to hills and beauty and nature. The drive was therapeutic. When time came to buy a home [in 2009], this was the first place I looked. I got so lucky lucking into this place. I was a single parent with little to no credit and a musician."
Fortunately, he had built up a fairly good collection of guitars and drum sets over the years. He sold most of them to make a down payment on his house.
As a musician, Salaway's first love was the drums. He had no choice.
"My dad's a drummer, so I had sticks in my hand since I was a baby. When I was 9 or 10, it was one of those summers and I was bored. His drum sets were stored in the garage, and it was like they were calling to me. Dad helped me set 'em up, and it came naturally."
That led to his becoming drum captain and band president while a student Lemon Bay High School, which had a prestigious marching band that took Salaway and his teen peers to appearances in the Mardi Gras parade and at the Kentucky Derby.
In the meantime, he was listening to Top-40 radio. He said, "I liked a lot of heavy stuff, but the Beatles and Led Zeppelin were my favorite. My folks loved them and played them all the time, and my dad taught me the first two songs I learned on guitar, 'Rocky Raccoon' and 'House of the Rising Sun.' They're always a part of who I am."
While in high school, he put together a professional jazz band, Mystic Blues, that played at proms and black-tie events, and during his senior year, he formed a rock band, Angie's Bookbag that put out '90s rock hits and classic rock tunes.
When he was 19, the musician took a turn as an assistant preschool teacher at a Methodist Church. He recalled, "At nap times, I would sing the kids to sleep and in the afternoons taught them 'All You Need Is Love' and other love and peace songs."
During that spell, a pastor invited him to help create a contemporary church service, and most recently, Trinity United Methodist Church in Murfreesboro has enlisted Salaway in starting and leading a new contemporary worship service.
Regarding his new album, Down the Road of Life, he described its theme, saying, "I believe all of us have a very similar journey in life. We have a unique path, but we experience the same things: love and loss, joy and pain, blessings and hardships. That's what it's about. Everything we encounter."
Asked about his lyrics, he said, "For the most part, I try to be a positive voice in a world filled with negativity. A lot of what I write about is quantum physics, also about the laws of attraction. Basically, we are what we think.
"I also write a lot about our spiritual journey and our blessings. My first album might almost be considered a Christian album because of themes in there."
The music maker stays busy working at home. He now plays piano and guitar and is getting familiar with the banjo and mandolin. Besides composing songs to sing, he also writes background music for TV shows, including "Knife Fight," and several others on AMC.
As for his dream gig? Well, he believes his life in Cannon County just might be it.
"I became a father at 25 and realized that the life of being a rock star on the road was not as important as being a good father. Some rock-star friends have also told me that life on the road is not as glamorous as people think. It's a lot of waiting around in buses and rooms for a short time on stage.
"The fact that I can use my talent to pay the bills is a dream come true. The only thing I'd wish for is for more people to give my music a listen," said the man, who, unless he's onstage wailing out Beatles tunes, just really doesn't get that excited.
Christmas with Forever Abbey Road
The holiday tribute to the Beatles rocks at 2 and 7:30 p.m. Saturday (Dec. 17) at the Arts Center of Cannon County and also co-stars a stringed quartet. Tickets are $20. The concert features Christmas songs by the Fab Four such as John Lennon's "Happy Christmas" and Paul McCartney's "Wonderful Christmas Time," as well as their biggest pop hits and a few Christmas songs that were written and performed by friends of the Beatles. Admission includes refreshments before the show and during intermission. To purchase tickets, call (615) 563-ARTS or go online to artscenterofcc.com.
Catch Salaway's act in the big city
Now ensconced in Cannon County, musician John Salaway frequently goes 50 miles west to play his songs in Music City. He performs his one-man show every Friday at 2 p.m. at B.B. King's Blues Club in Nashville and will be at the brand new Soulshine Pizza Factory in Franklin at 6 p.m. Dec. 23 and Jan. 6. To purchase his new album, "Down the Road of Life," go to his website, johnsalaway.com, or find it at the Arts Center of Cannon County gift shop.