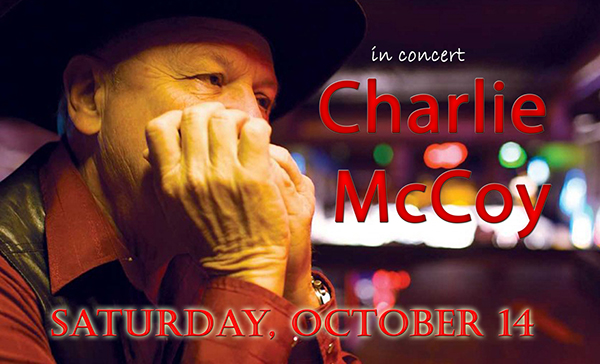 There are numerous super-session musicians in Nashville, but very few with the longevity of Charlie McCoy. In addition to being a fixture in Nashville studios for 56 years, he also has his own recording career going full tilt. (He has recorded 35 solo albums.) He served as the music director for 18 years for the syndicated television series, "Hee Haw."

Charlie McCoy began working sessions in the early 60s, one of the first being "Candy Man" by Roy Orbison. "$49," says Charlie. "That's how much I was paid for that session back in 1961. It got Roy another hit and me a career.

For a 20-year-old to make $49 for three hours work back then, it was a dream."

Shortly after the release of "Candy Man," Charlie became one of the in-demand session players in Nashville. His session credits are literally a who's who of country music.

For a 15 year stretch, he did more than 400 sessions a year. A grand total would number more than 12,000, and he's still going!

In addition to country sessions, Charlie was a mainstay on Elvis Presley recordings both in Nashville and Los Angeles. When Bob Dylan recorded "Highway 61," "Blond On Blond," "John Wesley Harding," and "Nashville Skyline," Charlie was there, playing on these land-mark recordings. He was also heard on Simon and Garfunkle's "The Boxer" in addition to many hits from genres other than country music.

In addition to making his own recordings, Charlie was a member of a legendary recording band, "Area Code 615." The band featured many of the top session players in Nashville.

While Charlie is predominately known as a harmonica player, his musical prowess encompasses other instruments including guitar, bass, mallet percussion, keyboards, and various wind instruments.

Ticket prices for the McCoy concert at the Cannon County Arts Center on Saturday are $15 for and may be purchased by calling the box office at 615-563-2787 Tuesday through Saturday from 10:00 a.m. to 4:00 p.m. or online at www.artscenterofcc.com.

Pre-payment is required for this concert. No reservations, at the door tickets prices are $20.