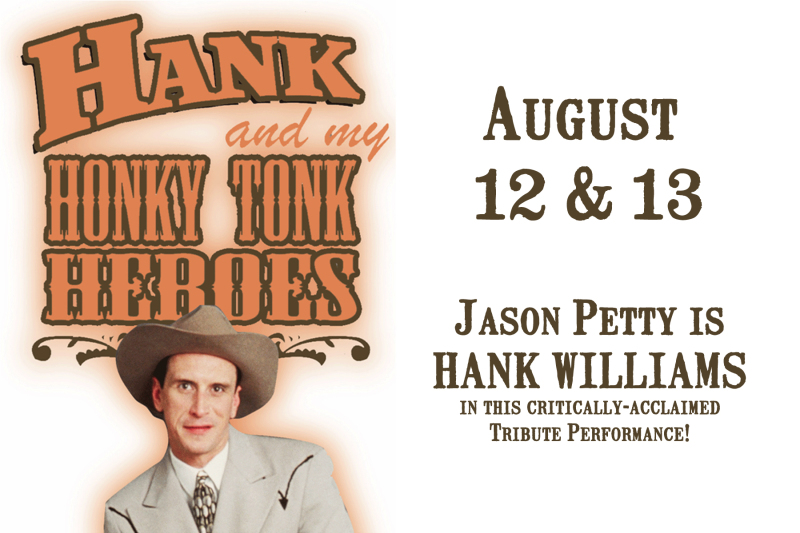 He's traveled Hank Williams' Lost Highway from Nashville to Broadway...and now he's bringing his award-winning sounds of the country music legend to the Arts Center! Jason Petty has won critical acclaim all over the country for his surreal performance as country legend Hank Williams in the off-Broadway hit Hank Williams' "Lost Highway'", so much so that his performance racked up 5 nominations in New York's award ceremonies for Best Actor.
Now, this multi-talented singer/actor/musician is bringing his own tribute show out on the road. This new show is called "Hank and my Honky Tonk Heroes" and showcases Jason's uncanny ability to capture the sounds of Hank Williams.
The show takes audiences back in time to the very beginnings of country music and pays homage not only to Williams, but also to other country legends, such as Jimmie Rodgers, Roy Acuff, Ernest Tubb, Webb Pierce, George Jones, and many more. Jason takes us on an insightful journey into the music of Hank Williams as only Jason can. In 8 years of research on this great man, Jason has had the chance to speak with friends, band members, family, biographers and other Opry legends who knew Hank.
Jason re-creates such Williams' hits as "I'm So Lonesome I Could Cry", "Your Cheatin' Heart", "Hey Good Lookin' ", "Kaw-Liga", "Cold Cold Heart", "Lovesick Blues", "You Win Again" and many more. But this astonishing show is more than just a Hank Williams tribute...thus the title. Jason pays tribute to stars that influenced Hank and those stars that Hank influenced. Backed by an authentic four-piece band, "Hank and My Honky Tonk Heroes" will make you smile, make you cry, and make you clap your hands and stomp your feet with excitement. Come see why critics and fans are raving about Jason Petty in "Hank and my Honky Tonk Heroes". You will be so glad you did.
Ticket prices are $15 for and may be purchased by calling the box office at 615-563-2787 Tuesday through Saturday from 10:00AM to 4:00PM or online at www.artscenterofcc.com. Pre-payment is required for this concert. No reservations, at the door tickets prices are $20.
The Arts Center is located at 1424 John Bragg Highway, just west of the town of Woodbury, approximately 20 minutes from Murfreesboro, Manchester, and McMinnville and one hour southeast of Nashville Office hours are 10:00a.m. to 4:00p.m., Tuesday through Saturday. For more information check our website at www.artscenterofcc.com or call 615-563-(ARTS) 2787.