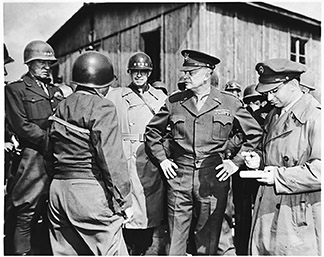 Writer's Note: For decades, former Army Medic Guy T. Fortney didn't speak of German Nazi atrocities he witnessed at Concentration Camp North Stalag III. The second and final part of this series will share about an American teacher instructing his granddaughter's class that the holocaust never happened. That incident caused Fortney, now a retired physician, to finally speak out.
By DAN WHITTLE/ Courier Correspondent
OHRDRUF, Germany - His duty during World War II, was to treat and attempt to sustain lives of wounded soldiers in the Fourth Armored Division as American troops crossed out of France into Germany.
It was during the historic Battle of the Bulge, described as the Nazi German Army's last major offensive against Allied Forces, that U.S. Army Medic Pfc. Guy T. Fortney Jr. nearly lost his own life to a sniper's bullet.
"I heard this 'pffft' noise, as the sniper's bullet came within an inch of my head and helmet," recalls the World War II veteran. "That's when one of our tanks rolled out and did away with the sniper. But, I'll never forget that 'pffft' sound as the bullet hit my bedroll, instead of my head."
The then twenty-year-old combat medic also recalls tundra-like freezing conditions.
"Many soldiers' feet and hands, especially feet, were messed up for life, since we didn't have adequate clothing for those brutal cold conditions," Murfreesboro resident Fortney recalls, at age 90. "Ground was frozen so hard, it was nearly impossible to dig a foxhole during the Battle of the Bulge.
"But, once our Tenth Armored Infantry Battalion crossed the Rhine River (March 8, 1945), our Army made rapid advances through Germany, stopping only at major towns, to clean out remaining German resistance."
Pfc. Fortney and five other X-ray medical technicians, after landing on Omaha Beach a few days at D-Day, had been reassigned as combat medics. Fortney is one of two of his fellow medics to have survived the U.S. Army's combative assault wave across France and Germany.
"After the war, Medic Bill Dean (of Pennsylvania) and I stayed in touch, until his death in 2014," the veteran recalls. "Bill became a PHD psychologist after the war. I became a medical doctor at Oak Ridge (now retired)."
He recalls not "having the time" to think while treating wounded American GIs.
"As combat medics, you wonder when your time (to die) is coming," Fortney reconstructed some wartime thoughts. "You do your job, and move on, it's happening so fast, you don't have time to think. It's after a battle, you contemplate the sadness and sorrow of young American soldiers' lives lost."
Although he had witnessed carnage up close, Fortney and other American soldiers, including officers, were not prepared for what they were about to witness after reaching the German town of Ohrdruf, located about 30 miles south of Gotha.
"I was part of a tank unit that had been directed to destroy a German communications center that Army Intelligence had identified at Ohrdruf," Fortney described. "However, the Germans had vacated the center. That's when one of our tank sergeants noticed some tall guard towers nearby, and some guard shacks ..."
This was American Forces introduction to German wide-spread barbarism, and through subsequent newspaper accounts and radio broadcasts, the whole world was about to learn of Nazi atrocities.
"We found two stacks of bodies out on the open ground ... two nearby buildings were stacked with more bodies," Fortney recalled. "We were accustomed to seeing bodies and death, but were not prepared to witness this incomprehensible site of mass evil. We later learned Russian units had also been liberating Nazi concentration camps on the eastern assault on Germany.
"We also witnessed a young female German SS soldier, who apparently didn't vacate the camp soon enough ... she had been beaten and kicked to death by death camp survivors," the medic accounted.
What they had found was a Nazi German death camp.
"Actually, it was secondary concentration camp to Buchenwald," Fortney explained. "The Jewish prisoners had been brought in boxcars from Buchenwald, to help construct a railroad line. Those stacks of bodies we found in Ohrdruf 's auxiliary death camp were judged not able make the trip back to Buchenwald. After being knocked to the ground, they were killed with bullets in back of heads and necks to make certain death was permanent. There was also a gallows, still standing for punishment purposes."
On April 1, 1945, German officers had ordered the evacuation of Ohrdruf, because of rapid advancement of American soldiers. Pfc. Fortney's tank unit made the historic death camp discovery on April 4, 1945.
"We found trenches filled with bodies. Since Ohrdruf had no crematorium, the German SS had attempted to do away with bodies by burning them on railroad tracks that had been constructed by forced death camp labor," Fortney added. "The burned remains of (mostly naked) bodies were stark reminders how barbaric the German SS soldiers had been."
Allied Force Commander Dwight Eisenhower and U. S. Generals Omar Bradley and George Patton came to personally witness the atrocities on April 5, 1945.
"That's when Gen. Eisenhower ordered photographers to photograph and document all the atrocities, so the world can never forget that this incomprehensible holocaust actually happened," Fortney recalled. "Due to Gen. Eisenhower's wisdom, I can understand why he had been chosen as the Supreme Commander of Allied Forces."
"On April 12, our officers ordered the towns people of Ohrdruf to witness the carnage and stacks of bodies," Fortney recalled. "I've got pictures of the towns' people overlooking the stacks of dead bodies."
Writer's Note: The final part of this series will detail what motivates Dr. Fortney, who will be 91 in July, to conduct informational seminars about the WW II holocaust.