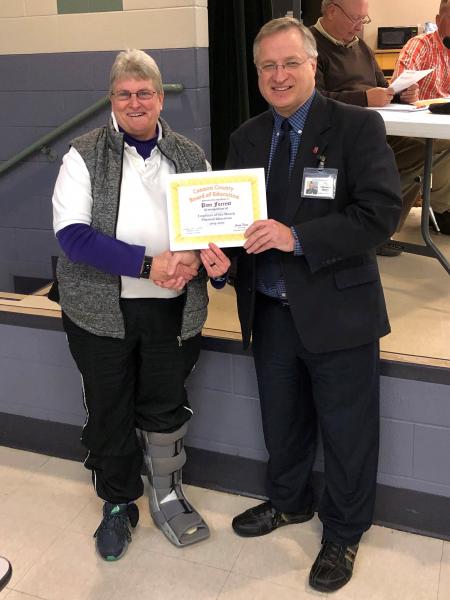 Mrs. Pam Forrest - Physical Education Teacher at Woodbury Grammar School and Mr. Brad Underwood - 4/5 Math & Social Studies Teacher at East Side School in the Cannon County School System were named as "Employees of the Month" for November 2019 by Cannon County Schools. During the November Meeting of the Cannon County Board of Education on Tuesday, November 12th, 2019, Mrs. Forrest and Mr. Underwood were recognized at the meeting and presented a certificate by Cannon County Schools Director Mr. William F. Curtis for their service to the Cannon County School System. Employees are nominated by School Principals or School District Supervisors and are voted on during monthly Principal and Supervisor meetings regarding individuals who exemplify the Mission and Vision of Cannon County Schools.
Woodbury Grammar School Principal, Mrs. Emily Hancock, nominated Mrs. Forrest and commented, "I would like to nominate Mrs. Pam Forrest. She does so much more than teach physical education. She is a true example of a team member. She is always willing to step into any needed role from extra bus duty, cafeteria duty or sponsoring Beta. She has been instrumental in bringing a walking club and completed a new playground for our school. She is always thinking about the whole child and is willing to help anyone out."
Supervisor of Coordinated School Health for Cannon County Schools, Mrs. Bonnie Patterson, stated regarding Mrs. Forrest, "Ms. Pam has been instrumental in making Woodbury Grammar students, as well as students across the county, healthier and happier. Ms. Pam started the first Walking Club in the county and this club has been mirrored by clubs across the county and Upper Cumberland region. She also has written several grants that have completely transformed Woodbury Grammar School's playground. Ms. Pam is a member of the Cannon County's Healthy School team as well as a member of Woodbury Grammar's Safety team. There has never been a time that I have called on Ms. Pam to lead an initiative that she has not been successful. She understands the importance of building relationships with her students, staff, and community. She is a jewel and I appreciate her so much."
Regarding Mr. Brad Underwood, East Side Principal, Mrs. Connie Foster, stated why she nominated him as Employee of the Month, "Brad Underwood teaches 4th and 5th grade Math and Social Studies at East Side School. This is Mr. Underwood's 19th year in education with four years at Woodland School, seven years at Short Mountain School, and eight years at East Side. He serves as Assistant Principal at East Side School and is the President of the Cannon County Education Association. My comments regarding Mr. Brad is that, I have never worked with anyone who takes lesson prep as seriously as Mr. Brad. Even after teaching from the same Math curriculum for multiple years, he studies his lessons every night to ensure he is prepared for the following day. He understands that our adopted Math series is of high quality and supports him in being an effective teacher. In addition, he recognizes that one of his best classroom discipline tools in his toolkit is a well-planned lesson. In his capacity as assistant principal this year, Mr. Brad has developed an especially effective master schedule that includes thoughtful considering of how best to meet the demands of our Response to Intervention Program and how best to cover classrooms while teachers meet in their PLC groups. Mr. Brad has a sharp eye for considering school level problems and seeing the clearest way forward. Perhaps Mr. Brad's most critical role at East Side School is related to staff morale. Thank you, Mr. Brad, for making us laugh each and every day."
Director of Cannon County Schools, Mr. William F. Curtis, commented, "Mrs. Pam Forrest is one of the most beloved educators in Cannon County Schools. As a long-time teacher of PE at Woodbury Grammar School, she has influenced hundreds of students regarding healthy choices in their lives. Her wisdom and intellect, combined with her love for students is literally 'life changing.' My sincerest congratulations to this wonderful educator."
"Mr. Brad Underwood is the embodiment of an outstanding educator. His commitment to learning and extending his students' capabilities in Math and Social Studies is his goal. Mr. Brad's infectious spirit as an outstanding educator is celebrated in his selection as Employee of the Month."
Mr. Curtis continued to add, "I believe Mrs. Pam Forrest and Mr. Brad Underwood both explicitly personify our Mission of Cannon County Schools of 'Preparing All Students for their Future' by most assuredly being 'The New E3 - Engaged in Excellence Every Day.' Congratulations to these outstanding educators for being an impactful 'Team Players' in our Cannon County Schools family."