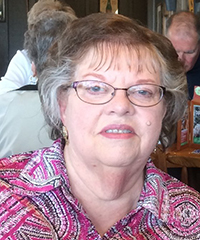 Eleanor Ann Chandler, of Winchester, passed this life on Monday, September 2nd, 2019 at Tennova Healtcare-Harton in Tullahoma at the age of 74.
Mrs. Chandler was born in Rutherford County to the late Raymond and Ruby Grace Richardson Shipp. She was a member of the church of Christ and loved to cross stitch, read books, play cards and work puzzles.
In addition to her parents, Mrs. Chandler was preceded in death by one sister, Mary Jane Shipp; her mother and father in-law, Melvin and Eva Chandler; and her sister-in-law, Janice Shipp.
She is survived by her husband of over 52 years, Larry Chandler of Winchester; one brother, Ray Shipp of Woodbury; one niece, Amy Parton (Phillip) of Woodbury; one nephew, Kevin Shipp (Tisha) of Woodbury; great-niece and nephew, Ally and Jacob Parton; numerous cousins; her beloved dog, Ladybug; and her family and friends at Southern Manor Living Center.
Visitation for Mrs. Chandler will be held on Wednesday, September 4th, 2019 at Kilgore Funeral Home from 1:00-2:00pm with the funeral to follow at 2:00pm. Burial will follow at Maplewood Cemetery with family members serving as pallbearers.
In lieu of flowers, the family asks that donations be made to either Southern Manor Living Center 3619 Cowan Highway, Winchester, Tennessee 37398 or to Multi County Cancer Support Network, P.O. Box 1355, Tullahoma, Tennessee 37388. Kilgore Funeral Home is in charge of arrangements.