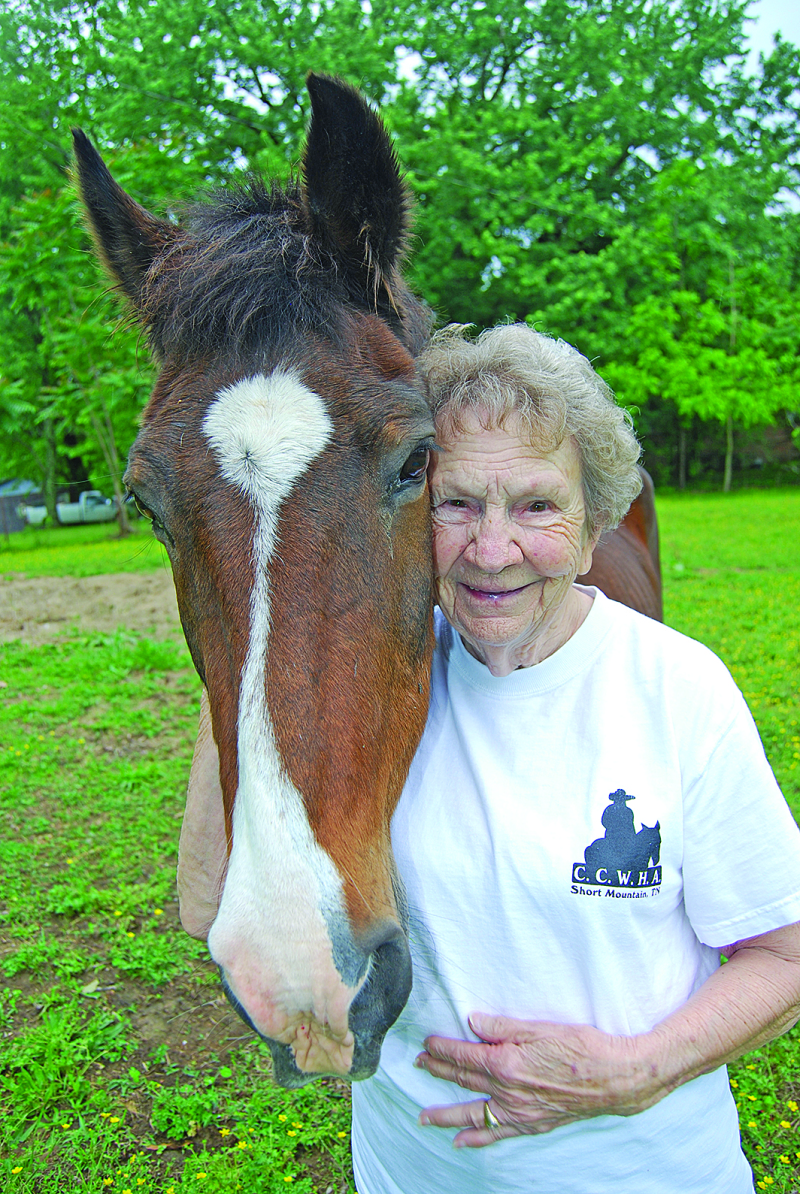 By KEN BECK
The Cannon Courier
As a youngster growing up down on Hurricane Creek, Eleanor Anna Nichols wanted a horse of her own more than anything.
Oh, she got to sit in the saddle behind her schoolteacher and would pester her brother for rides on his horse, but it wasn't until halfway through her 84 years that she finally began to make up for lost ground.
Today, Eleanor Nichols Bell, a member of the Cannon County Walking Horse Association (CCWHA), can't wait to saddle up and once more head for Short Mountain in the upcoming Memorial Day Ride.
The ageless horsewoman, who hangs her spurs on Pleasant Ridge, recollects she first jumped on the back of a horse when she was 5.
"My daddy's sister, Rilla Frank Nichols, was the school teacher at Jones Chapel School. I rode to school behind her on her horse," said Bell, who was born in Dodger Hollow to Doak Nichols and Rena Mai Davenport Nichols.
"I used to follow my dad in the garden. I would ask him to let me ride the mule while he was plowing. Sometimes he would let me, and sometimes he'd send me to the house. He didn't have no use for a horse, just mules.
A couple of years later, Eleanor's father did get a horse that they named Terry, and that sort of worked out to her advantage.

"He really belonged to my brother [Douglas], but he was afraid of horses," said the Woodbury Central High School class of 1951 graduate.
"I'd just always been around them, but I actually didn't get into riding horses till my husband, Forrest, died in 1976, and we had four horses. The kids was determined to go in The Ride, and I wouldn't let 'em go unless I was with them. I still ride with anybody that will let me ride with 'em, mostly family," said Bell, who participated in her first Ride to Short Mountain in the 1970s.
"Doug McCrary and my husband [one of the first board members of the CCWHA after they purchased the land for the campground] rode together a lot. My husband was buried on a Saturday. On Sunday afternoon Doug came to my house. He didn't say, 'Do you want to ride?' He said, 'Go to the barn and saddle your horse. We're going riding.' He was really the one who encouraged me to ride."
Besides the Memorial Day and Labor Day rides, Bells noted, "We'll have a one-day remembrance ride in the spring and that's when I wear ribbons with my sons' [Jeff and Ricky] names on it, and we have the Halloween Ride in October."
The Ride begins at the Woodbury fairgrounds at 11 a.m. and proceeds through town before taking a left on Highway 53. Horses and riders then take Seals Hollow Road and go around the north side of the mountain to reach the campground, according to Bell.
Bell estimates that it is about 15 miles from town to the CCWHA's campground and that the trip takes about six hours including a stop for lunch at the spring along the route. The campground features a show ring, dance floor, bath house, shirt shack and snack bar.
"It takes lots of work to get ready for a ride. You gotta have 'em shod, get a Coggins test and get the horse in shape," said Bell, whom the association named as its first grand marshal at The Ride on May 30, 2012.
She believes she is the oldest rider to participate in The Ride, and until recently definitely had the oldest horse, her faithful steed, Commotion, age 33, which she has raised since its birth.
"He's a big pet," she says of her favorite horse. "Me and him gets along pretty good. My son, Clay, said he was the most spoilt horse he ever seen."
She's not riding Commotion anymore as she's put him out to pasture on a few green acres atop Pleasant Ridge where she dotes on him and supplies him with grain, hugs and kisses.
Bell plans to ride this weekend on nephew Gene Mason's horse, Maybelline.
She and her late husband produced four children: Ricky, Jeff, Clay and Rena. She also has three grandchildren and two great-grandkids.
As for what she likes most about riding horseback, Bell answers, "The freedom. It seems like your cares float away."
Besides Short Mountain, she has made trips by horse to other Cannon County sites such as Auburntown, Rattlesnake Hollow and Pocahontas. In Tennessee she has participated on trail rides at Bucksnort, Birdsong, Cordell Hull Dam, East Fork and the Buffalo Trail Ride.
She's made the Eminence, Mo., trail ride five times and even ridden a mule in the Grand Canyon. "Everybody says, 'I wouldn't do that for nothing.' It's no different than riding to Short Mountain," she said.
Of course, riding on Short Mountain has not always been a piece of cake.
"I love sewing," said Bell, who worked at the Colonial Shirt Factory and Val-Dor Shirt Factory in Woodbury decades ago. "In 1989, Rena and I made the first [Short Mountain] trail ride T-shirts."
Those bright red shirts bore the words: Fat Man's Squeeze; in reference to a tight squeeze behind two rocks along the trail.
"You have to get your legs up in the saddle to get through," said Bell. "I had a leg slip off the saddle, and I broke my foot."
Another time, after reaching the campground, Commotion stumbled and fell on Bell and broke her arm.
With not a lazy bone in her body, the horsewoman works five hours a day four days a week at Crane Interiors in Woodbury where she makes covers for the arms of boat seats. She also helps out with elections held at Woodbury Grammar School, where she used to help operate the voting machines but now serves as greeter.
Bell, who notches her 85th birthday this fall, says, "I hope to make the October Ride, as long as I have good health."
The No. 1 goal on her bucket list?
To ride a horseback through Great Smoky Mountains National Park. We'll bet she does.