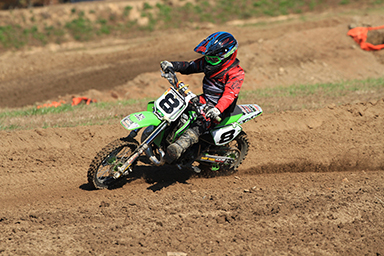 DAVID HUNTER
Cannon Courier
Local resident and budding motocross racer Spencer Chatwood is not your typical 9-year-old. Chatwood is hoping to turn a hobby into something more, while balancing life at the same time. Currently, he is in the middle of a run of trying to win several championships this season.
Chatwood has only been racing his 65cc Kawasaki for only a year at motocross tracks around the southeast, but even with the lack of experience compared to racers his own age, the positive results has been coming in. During his last race weekend, a couple of weeks ago, he finished with a top five overall win. He started racing dirt bikes about a year ago, just for the simple love of doing it.
"I watched everybody do it, and it looked like so much fun, so I started," Spencer said in a sit-down interview on April 2.
His racing journey along with his dad, Alan, has taken him around the southeast racing at different tracks against some of top talent in his age group. The family's goal this season is high, but they hope to reach it by competing for four championships in two different series in two different age groups. Chatwood is racing for titles in the Southern All-Stars, 7-9 year old and 7-11 year unlimited divisions, and the same age groups in the Big Show Series.
Last weekend, they did not race because of the Easter holiday but Spencer is still in the running.
"The biggest thing in his class is not winning every race, but staying consistent and healthy," Alan said. "We have been real lucky with him staying healthy."
However, unlike most parents and kids his age, who participate in youth sports around the nation, Alan wants to make sure Spencer is always having fun racing around the track.
"I just want him to have fun," Alan said. "As long as he is having fun, we will keep doing it. If he ever comes to me, and says this is not fun anymore, we will find something else to do."
Besides training at home on his track, Spencer also plays basketball, football and baseball. However, the main focus for the family is not athletics, but his work in the classroom as Spencer is a straight-A student in the third grade at Westside Elementary. Alan stresses the importance of his studies as he will not let his son ride if his grades ever slip.
During the winter months, most of the dirt bike racing happens indoors, including two significant events at Miller Coliseum in Murfreesboro and Bridgestone Arena in Nashville. The Chatwoods missed the event in Murfreesboro, due to sickness, but they did get to race at the Bridgestone, home of the Nashville Predators. That weekend, the ice was replaced with dirt as the top riders in the AMA Arenacross Series competed in Music City.
The Chatwoods were unable to see the professionals in action on that Saturday night. However, on the following day the amateurs, including Spencer, got to race on the same track as the pros. It was an experience, which the family will never forget.
"It felt good to be on a track where the real good guys raced on," Spencer said. "I was really pumped about that."
Both of them added, they got the chance to pit with some of the top older riders in the series, and one of the mechanics gave Alan helpful tips on how to set up the bike. Spencer added the riders were really nice to him.
"They were really nice guys and we just talked about riding," Spencer said.
Spencer's favorite professional racer is four-time AMA Supercross Series champion and three-time AMA Motocross champion, Ryan Villopoto. This season, Villopoto is trying to conquer the world as he is competing in the FIM Motocross World Championship.
"He is always consistent and he knows all of the stuff," Spencer said of why he likes Villopoto. "He can just do it."
Spencer has also ridden at the home track of Lascassas native, Hubert Rowland, long-time mechanic of action sports legend, Travis Pastrana.
Next weekend, Spencer will race at Glory Hills MX track in Pleasant Shade, TN.
In all forms of motorsports, a racer needs sponsors in order to have a successful career, and Chatwood is no different as his sponsors are the reason why his family gets to race at all of these different tracks. Spencer's sponsors include Factory Backing, One Industries, Dunlop Tires, Lucas Oil Products and Replay XD.