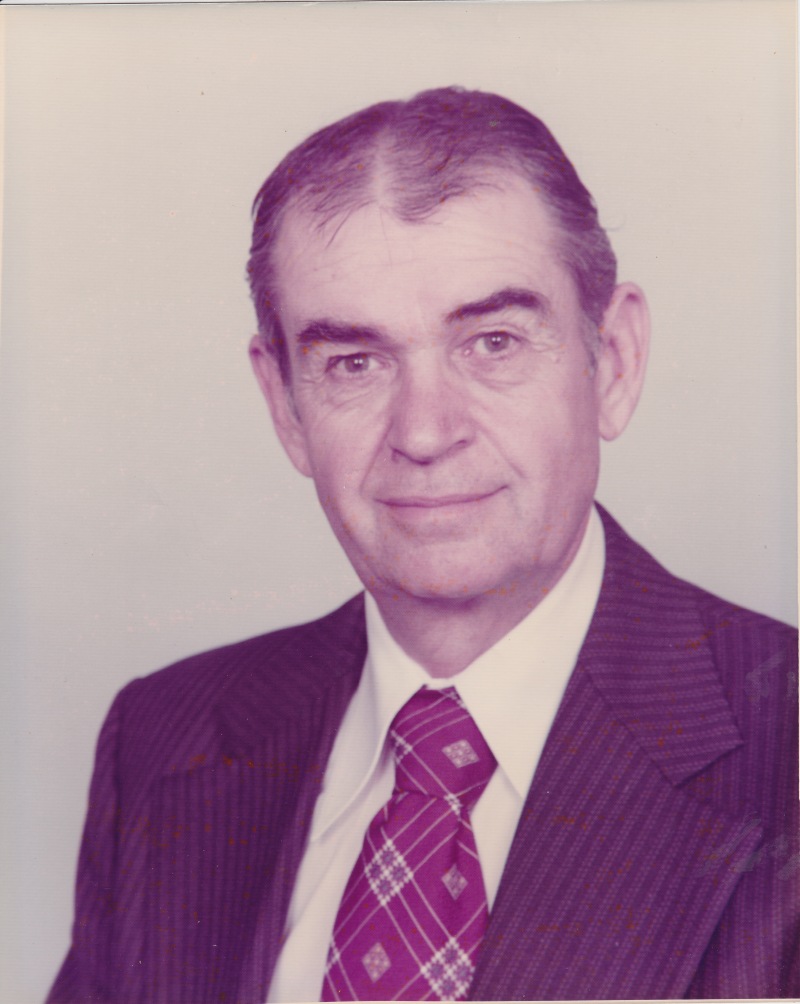 Mr. William "Bill" Smith, 97, a lifelong resident of Woodbury passed away on October 30, 2015. He was born on June 10, 1918 to the late George Stanton Smith and Linda Brevard Smith. He was also preceded in death by his wife, Dorothy Smith; brother, George Smith; sister, Minnie Smith; son, Mike Smith and great grandson, William Robert Patterson.
He is survived by his son, Steve Smith of Woodbury; granddaughters, Lindsay (Joe) Patterson and Blaire Smith both of Woodbury; a great grandson, Gabriel Patterson and his devoted friend and caretaker, Christine Dillon.
Bill, as he was known to his family and friends, was born in the Edgefield community of Woodbury. His parents owned a farm and taught him a great work ethic from childhood. They raised their own livestock and garden to support the family. His father died when he was thirteen in the middle of the Great Depression. It was during these difficult times that Bill's character was formed. He graduated from Central High School in the Class of 1937. He was described in the yearbook as "always cheerful and plucky." He always had a smile and a kind word for everyone. He and Dot married and began their family in his beloved Edgefield community. She died at a young age and he carried on raising their two sons, teaching them everything he could to be good citizens and honest hard working men. Bill had to take jobs doing many different things as a young man. He would haul loads of coal, cut wood and whatever else he could do to earn an honest living. He was able to find work as a truck driver and drove for many years with McBroom Freight Lines, TCT and Super Service.
Bill's father had friendship with Dr. J. F. Adams before he died. Dr. Adams took notice of Bill's work ethic and offered him a job at the Bank of Commerce. His time at the bank took him from being a teller all the way to being President of the bank with 55 years of service at the time of his retirement. He earned a Banking Degree from LSU, while working at the bank. During his time at the bank his creativity and entrepreneurial spirit came to be a great asset. They grew from one branch in Woodbury to operating a branch at Edgefield and Auburntown. Many of these students came to work with him at the bank and went on to college and other careers. Some of them stayed at the bank to form a close knit core group of employees. His most trusted friend and co-worker, Christine, worked closely with him on any project that came up. One of those students that came to work and stayed was his son, Steve. Bill enjoyed working with him and showing him all there was to know in the banking business. He always took a hands on approach with customers, calling them by name and introducing them to the employees and showing them around. Through the bank he was able to fund the construction of the pavilion at Dillon Park and donate the bank building at Auburntown which became the library. He developed the idea for the Good Ole Days a community event that the bank sponsored for 25 years. He also supported the county schools in any fund raising needs they had. He loved going to basketball games and made a point to keep up and encourage players and students at every opportunity. Bill was honored to be placed in the Banker's Hall of Fame for Banking Excellence by the Tennessee Bankers Association a few years after retirement.
Bill was right there to help when his son, Mike, decided to open Smith Funeral Home. He and Christine later became co-owners in the funeral home with Mike. They enjoyed helping and working with the families they had known for a lifetime. It seemed Bill never tired of working. When he wasn't working at the bank he farmed. He raised Hereford cattle, walking horses and mules. He cut, baled, hauled hay, planted a small crop of corn on the family farm to feed his livestock. Bill's love for mules kept him busy too. He was an active member of the Middle Tennessee Mule Skinners Assoc. He enjoyed working and showing his mules on the farm and at events like Mule Days at Columbia and the Woodbury Mule Show. He and several of the members of the Mule Skinners built a Twenty Mule Team hitch and drove the mules through town.
Family time was important to Bill. He always tried to include his sons in the work around the farm. He loved to go on the Cannon County Walking Horse rides with them and go camping. He was all about working hard and having fun. They took some great trips out west and Bill got to meet and have lunch with John Wayne. When his granddaughters, Lindsay and Blaire, were born nothing would suit him better than giving them a horse and showing them how to ride. He took them on hayrides and held cookouts. He would be at every game they played and got involved with their lives as much as possible.
Bill always prided himself on helping others and his community. He became a member of the Lions Club. He enjoyed helping with many of community projects they offered. The Lions Club Horse Show and Christmas Home Tour were two of his favorites. Through the bank he helped sponsor the Bank of Commerce Cloggers. The Cloggers took many trips to support the Tennessee Lions at the International Lions' Parades. He helped raise money for the Adams Memorial Library, Easter Seals and other worthwhile community projects. He was closely involved in the development and promotion of the Cannon County Arts Center. He donated the land for its construction and later additions of land. He was a founding member of the Cannon County Historical Society. He loved studying the history of Cannon County and sharing that love with other people. He enjoyed visiting and supporting community events in Auburntown, Bradyville, Edgefield, Gassaway and Readyville. He came up with the idea and started Red Apple Days, Corn Bread and Bean Days and other community based events. Bill helped to spearhead several book projects through the Historical Society, Pictorial History of Cannon County, Cannon County History and Families and others. In 1996 he was selected to be a torch bearer for the Olympic Games in Atlanta. Bill was a member of the Woodbury Church of Christ. Throughout his life he strived to exhibit a Christian example and encouraged his friends, family and co-workers to be active in church.
Visitation will be at the Woodbury Church of Christ on Monday, November 2, 2105 from 2-6 pm. Funeral services will follow the visitation. Interment will be in Riverside Cemetery. In lieu of flowers memorial donations are requested to any of the following: Woodbury Church of Christ, Billy Smith Preaching Scholarship, Boyd Christian School, Adams Memorial Library or Cannon County Walking Horse Association. The contributions may be made by contacting Smith Funeral Home. Share memories and condolences with the family at www.smithfuneralhomewoodbury.net Smith Funeral Home, (615)563-5337