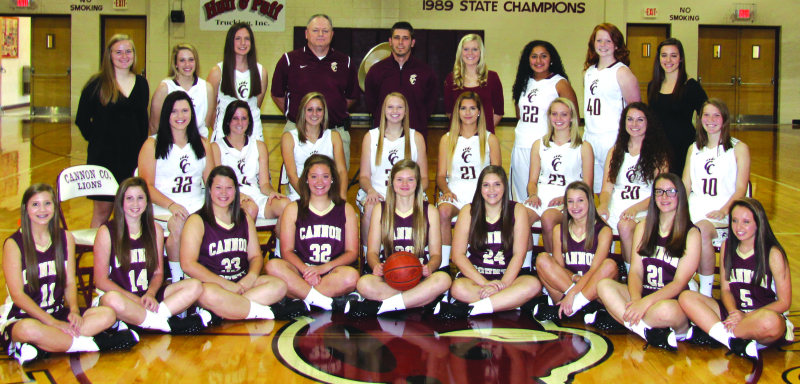 CCHS girls basketball team- (Seniors) Kelli Davis, Autumn King, Haylee Mooneyham, Addie Hale; (Juniors)- Samantha Gaither, Laura Beth Nichols; (Sophomores)- Ana Lawson, Maleah Scott, Lindsey Bowman, Maggie Cook, Hannah Haley, Allie St. John; (Freshman)- Tori Knox, Olivia Walkup, Katie Gunter, Taylor Parker, Addison Higgins, Erika Taylor, Ashlyn Nokes, Madelyn Hale and Macie Walker. Managers: Kelsey Smith and Katie Hoskins
DAVID HUNTER
The Cannon Courier
The question heading into the Lionettes 2015-16 basketball campaign is will the winning tradition continue under new leadership? Well, both the players and coaches believe so.
Cannon County High School enters the season with Jonathan Odom at the helm, as he takes over for Hall of Famer Michael Dodgen, who took the White County position during the offseason. During his time as CCHS head coach, the Lionettes advanced to five state tournaments in six years.
Even though Odom is now at the helm of the program, the goals remain the same for the Lionettes.
"We want to build on the past, because since I am a senior, I have been to state all three years," Lionette senior Autumn King said during Media Day on Friday, October 30th. "I would like to continue that, but we have to start fresh, because we have a new coach. I think we can build on the past, and maybe do something new, and maybe we can win it."
Odom added, "I do not care who your coach is, you are the Lionettes, and you have developed in my opinion a Top Five program across the state. I have challenged them each year, and each team is unique. In some sense, they are going to write their own legacy this year. What do want to be remembered as? This is not a rebuilding job, this is a dream job. This is a Top Five job in Class AA across the state. I have pushed the girls to have mentality that we are not taking a step back. We want to move forward. They have established a winning culture here and that is not going to change."
In order to do it, the Lionettes will have to replace three key components from last season, Kendra Maynard, Kirsten Hale and Erin McReynolds. However, they return the foursome of seniors including Kelli Davis, Autumn King, Haylee Mooneyham and Addie Hale along with juniors Samantha Gaither and Laura Beth Nichols.
"I think we have a lot of potential to get there, but we have to work harder than we did," Davis said. "We lost four seniors, but the new girls coming up have a lot of potential to get there. We just need to work hard to get there."
Once again, the district will be loaded with talent, and there will be tough games every night. However, just like CCHS, four other new coaches will be joining the district this season. As for Odom, he has adjusted the players during the offseason to his new style of play on both sides of the ball.
On defense, the Lionettes will mostly work on pressuring the opponent with a deep bench, while the offense will mostly focus on running a lot of motion, including moving without the ball trying to get the best shot.
The 2015-16 season tipoff begins at 5 p.m. Friday night November 19th when the Lionettes will host Van Buren County.