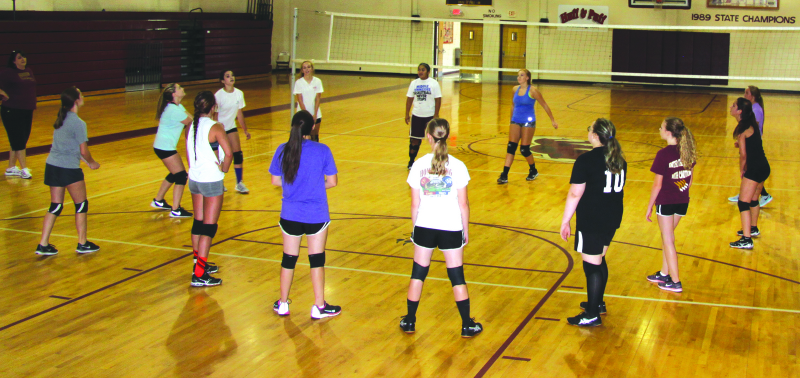 DAVID HUNTER
Courier Sports Writer
The 2014 volleyball season for the Cannon County High School team is one they would like to forget as the Lionettes went winless. However, these players and new head coach Emily Cook are working hard to change the culture and bring back a winning tradition to the program. Practice for the upcoming season started last week as the 2015 campaign is only less than a month away from beginning.
"I am extremely pleased with the effort these kids have shown, and they have really taken ahold of volleyball, including the new rules they have never been exposed to before," New CCHS head coach Emily Cook said during practice last week. "They have listened and tried and I can tell for the two week dead period they worked on skills at home without anybody pushing or talking to them, because some of them have just showed an improvement in their skills from two weeks before the period."
As for the players themselves, including returning stars Madelynne Bogle and Dasia Coon, they have seen a more positive attitude from not only their new head coach, but the team as a whole in currently working together in practice looking to improve their showing on the court this season.
"It has been way better, because she is more positive," Coon said during practice last week.
While Bogle added, "It is going pretty good. We got some new players and I feel like it is going to be a good season."
The dynamic duo are among several of the returning players, which Cook will be looking to help lead the Lionettes to be competitive in a tough District 8AA this season. So far, the players and Cook agree the team has shown great improvement during the first few days of practice during the offseason.
"Our girls are pumped about the season to start," Cook said. "They really struggled last year and they told me during the summer, they did not win any matches last season. They expect to change that this year, and they have a lot of determination. I am real proud of them."
The other players on the 2015 Lionettes include Emily Sissom, Haylee Mooneyham and Katie Hoskins, Rachel Alexander, Shianne Ashford, Maggie Cook, Courtney Davenport, Ashlyn Ellis, Addison Higgins, Kasey Sadler, Catherine Shaw, Brittany Smith, Taylor Sturgill, Courtney Talley, Alyssa Whited and managers Alana Whited and Quinton McMackins.
The players agree the positive energy Cook have brought to team has helped them as whole, and it has been passed down to the entire team. They want to continue it when the season starts in less than a month when school starts in early August.
"We need to be strong and have positive minds, so our young players can see that and finish out strong, too," Bogle said.
Coon added, "They see how hard we work, and how we have more positive thoughts and not care about the losing. It is just about family."
In a couple of weeks, the team will travel down the road to MTSU to take part in the Volleyball camp led by their legendary head coach Matt Peck and some really good talent from around the nation. Cook hopes this camp will help the players become better on the court, while having fun at the same time.
"I expect this team to be happy and have fun," Cook said. "I want them to enjoy practice, playing and the sport itself. I would love to see CCHS' program to grow and come to a point where these girls are watching their kids play volleyball in the years to come. I want them to increase their skills.
The 2015 season starts next month during the first week of classes at CCHS.