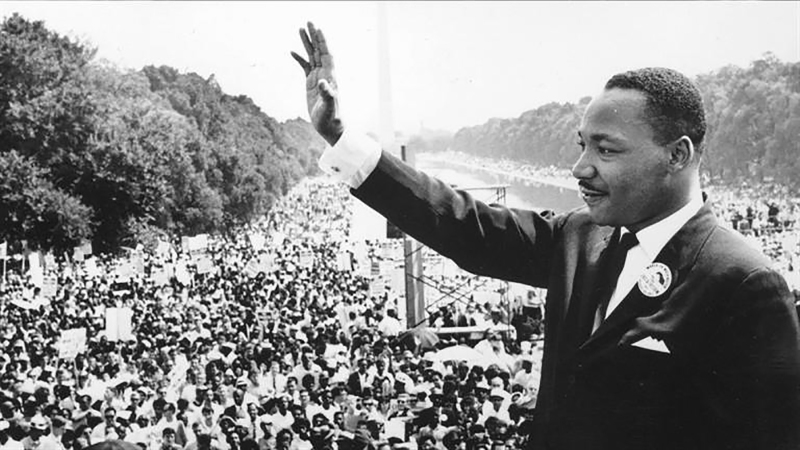 Editor's Note:

A 2-hour special, titled "Justice for MLK: The Hunt for James Earl Ray," is

scheduled to air on the American Heroes Channel/AHC at 8 p.m. Central Time,

this coming Sunday/January 17. T

he AHC channel can be located as follows: channel 128 on

Charter Cable; channel 287/HD285 on Direct TV; channel 195/HD 192 on Dish.
BY MIKE VINSON
Yearly, America honors "Martin Luther King Jr. Day," an American federal holiday marking the birthday of Martin Luther King Jr., born January 15, 1929. (NOTE: The holiday is held the third Monday of each January, which correlates with King's birth date of January 15.)
With Martin Luther King Jr. Day just around the corner, January 18, 2016, there exist some "buried facts" that certain powers would rather remain hidden in the grave. However, preferring historical correctness over political correctness, I have opted to resurrect these facts.

First, here's a brief overview to ensure all readers are on board:
A black, Baptist minister from Atlanta, Georgia, Reverend Martin Luther King Jr. (MLK), arguably, was the most influential civil rights leader in history. A crowning moment came August 28, 1963, at the Lincoln Memorial in Washington, D.C., when MLK gave his timeless "I Have a Dream" speech in front of some 250,000 listeners. This would become known as the "Poor People's March."

Having elevated several tiers as a civil rights force, MLK was planning a second Poor People's March, to take place late April 1968. There were logical guesstimates that 750,000 - 1,000,000 would participate in this second march, which worried many governmental sources.
April 4, 1968, MLK was in Memphis, Tennessee, to lead a march for the city's striking sanitation workers, the majority black. At approximately 6 p.m., standing in front of room 306 of the Lorraine Hotel & Motel, MLK was fatally struck by a single sniper's bullet.

June 8, 1968, James Earl Ray, a white, 39-year-old career criminal, and fugitive from justice, was arrested at London's Heathrow Airport and charged with MLK's murder. March 10, 1969, Ray entered a guilty plea and received a 99-year sentence. Ray succumbed to liver disease, April 23, 1998, going to his grave claiming he didn't shoot MLK.

The prosecution's story: Ray rented room 5B of Bessie Brewer's flophouse and shot MLK from the commonly-shared restroom of Bessie Brewer's.

James Earl Ray's story: He did rent room 5B from Bessie Brewer but did not shoot MLK.
Enter one Grace Stephens:

Grace Stephens and her common-law husband Charlie Stephens occupied room 6B of Bessie Brewer's flophouse. Charlie Stephens was a well-known drunk. When Charlie was first shown a photo of Ray, Stephens said the man in the photo was not the man he saw running from the commonly-shared restroom after MLK was shot. Later, though, Charlie changed his story when he found out authorities were offering a $100,000 reward for information leading to the capture of MLK's killer

Still, Charlie Stephens' flip-flop statement identifying Ray as the man coming out of the restroom was the primary reason British authorities were considering allowing Ray to be extradited from England back to Memphis.

However, the whole time, Grace Stephens was refuting her husband's statement, putting the state-prosecution in a bind regarding their "star witness." Stated Grace to Attorney Mark Lane, who represented James Earl Ray: "Charlie didn't see anything. He couldn't have. He was on the bed trying to sleep one off" (reference: book "Murder in Memphis," authors: Mark Lane and Dick Gregory).

Bolstering Grace Stephens' claim is former Memphis Police Captain Tommy Smith. Smith, canvassing the murder scene, attempted to interview Charlie Stephens only minutes after MLK was shot, and Smith testified: "He [Stephens] was too intoxicated to carry on an intelligent conversation."

However, Memphis authorities placed Charles Stephens in protective custody, so valuable was Stephens' ID --and extradition-- of Ray!
FACT: Early July 1968, after James Earl Ray had been arrested, but not yet extradited, Grace Stephens went to a Memphis hospital for a routine check-up. She ended being forcibly placed in the hospital's psychiatric ward.
FACT: July 19, 1968, Ray was extradited from England to Memphis.
FACT: Late July 1968, a Memphis judge had Grace committed to Western State Mental Hospital in Bolivar, Tennessee. At this point, Ray was going to trial, and Charlie Stephens was a potential witness, with Grace adamantly rebutting Charlie's story. As an attorney explained to me, "Once you've been declared mentally ill, your testimony is worthless."
FACT: Grace Stephens remained a patient in Memphis-area mental facilities for approximately ten years, until Attorney Mark Lane took over as James Earl Ray's lead defense counsel. Though her last name had been changed, her records altered, Lane, with the help of Memphis clergymen, secured her release.
FACT: Jerry Ray, brother of James Earl Ray, spoke with Grace Stephens, and Grace told Jerry: "They [authorities] put me away for all those years just because I wouldn't lie for them."
Was Grace Stephens a "sacrificial lamb"?