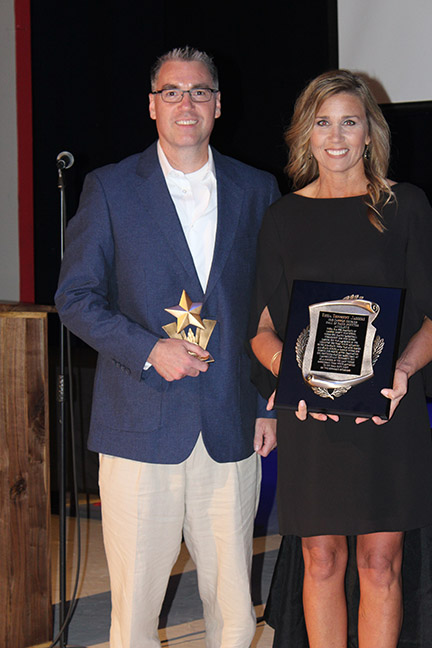 DAVID HUNTER
Courier Sports Writer
The youngest and only female member of the 2016 Cannon Courier Hall of Fame class, Tessa Tenpenny Jaggers, made an impact in basketball on the high school and collegiate level. However, her greatest joy today comes from the classroom.

"I was pretty honored and very excited," Jaggers said of her Hall of Fame induction last month. "Anytime you are part of something and you had a lot of success it has been so many years ago, but it will always be home to me even though I do not live there anymore. It is truly special, and I am excited that my kids gets to come back and experience that with me as well."

She was a member of the Lionettes basketball team from 1992-1996, in which she finished her career joining the 1,000 point club. However, she played for three different coaches in four seasons, but she still keeps in touch with a couple of them today.

"I enjoyed all of my coaches, and I felt like they contributed to my career in a positive way," Jaggers said.

As a freshman in 1993, Jaggers was a member of the CCHS team, which advanced to the substate and they just missed qualifying for the state tournament after making it during the year before. However, Jaggers was not in high school back then.

During the summer months, Jaggers worked on her game as she played on an AAU team, which was coached by CC Hall of Famer and current MTSU women's basketball coach Rick Insell. During the 2016 Hall of Fame event, a few weeks ago, Jaggers received a letter from Insell, which talked about her positive attitude and her unbelievable talent on the court. She was brought to tears after the letter from him was read to those in attendance.

Even through, the Lionettes never reached those same levels during her career, Jaggers played a significant impact in the success of the program with her never give up attitude on the court both in games and in practice, including on senior homecoming night during 1995 football season.

"I loved my time at Cannon County High School," Jaggers said. "During senior year at football homecoming, I had gotten homecoming Queen. We went through the parade. After school, I had to do the football thing that night, but I still came to practice that day."

Stories like that, showed Jaggers loved playing basketball, and that spirit carried her to Campbellsville University in Kentucky, which was a women's hardwood power in NAIA. She played for the Tigers from 1997-2000 under legendary head coach Donna "Wiz" Wise, and they came home with a lot of postseason success.

During Jaggers time at CU, the Tigers won the Mid-South regular season championship four times, the Mid-South tournament title twice, and advance to the NAIA Elite Eight twice.

"It was a really good fit for me, and I had a really good college career," Jaggers, who became of member of their 1,000 point club, said. "It was a really good experience, and we were able to go to the national tournament. We were very successful."

After college, she became a basketball coach at the high school level, but she gave it up to have kids. However, her love for teaching and helping them never stopped as Jaggers transitioned from the hardwood to the classroom. Currently, she is an assistant principal at a school in Kentucky, and she enjoys every minute of it.

"I think kids keep you young, and I enjoy high school kids and the teenage years," Jaggers said. "It is challenging sometimes, but I do enjoy kids, especially making a difference. You do make a difference, you are not going to catch every kid or save everyone. The success stories that you have and the things you get when they come back 10 years later and say if it was not for you, there is no telling where I would be. It means a lot."

Jaggers also said it meant a lot to be a Lionette, especially with her brother attending CCHS at the same time. Those memories continue to live with her today.

"I enjoyed CCHS so much, I enjoyed my teammates," Jaggers said. "There is nothing better than high school. I do not think you realize it until you are out of it, and you try to explain it to kids this will be the best time of your life. I enjoyed my time, and my brother and I played at the same time. I enjoyed our time together being able to ride the bus together. That was a special thing we shared as well."