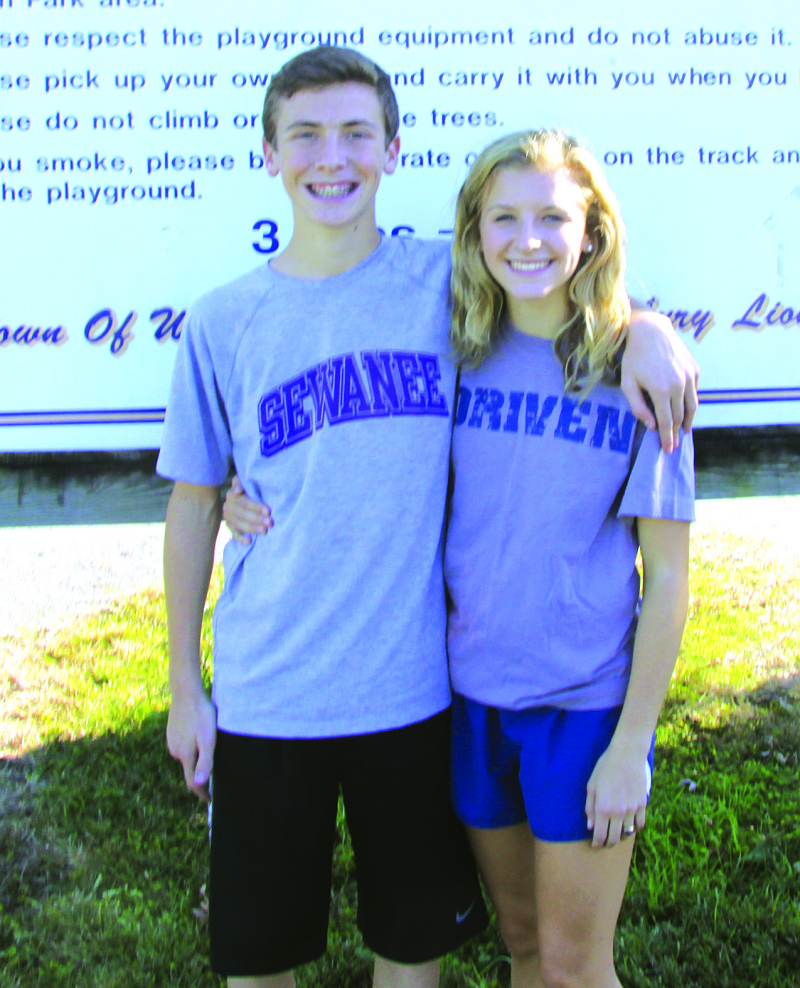 DAVID HUNTER
The Cannon Courier
The brother and sister combo of Hannah and Justin Whited has been one of the reasons the Cannon County high school cross country team has enjoyed success this season; both in winning meets and competing for a state berth.
Hannah, a junior for the Lionettes and the highest finishing runner, has won several overall meets this season. Not only that, but she has also established herself as a quiet leader on the team. So it isn't coincidental one of the runners she helps lead by example is her freshman brother, Justin.
"Hannah is more of a leadership position, and she does that not with words but showing up every day and working hard," CCHS head coach Marc Larson said before practice last week. "It bleeds over to the entire team. Justin is a newcomer, and he was working a little too hard over the summer with basketball and trying to keep up with cross country. Now, he has overcome that and he's made strides in the last few weeks. He has his legs under him, and he has come forward in the last few weeks. He's been more of someone who has come in a little wide-eye, but now he has the hang of it and really contributed."
The Lions and Lionettes competed last week in the Brentwood Invitational at the Nashville Steeplechase, which will also host the TSSAA state meet on Nov. 7. In the girls' 5000 meter race Hannah was the top runner as she finished ninth with a time of 21:59.64. Justin was 59th in the boys' race with a time of 20:29.85, helping the boys to a fifth place finish in the overall standings.
Now, the Lions and Lionette's prepare for the final two meets of the season, which will decide if they will advance to state and head back to the Steeplechase. This past Saturday, they competed at the Mid-State Championships at Sharp Springs in Smyrna. However, the biggest meet of the season is Oct. 29 at Chattanooga for the regional, which will determine if the Lionettes head back to state.
"We got to push ourselves to the limit, and see what our bodies can handle," Justin said. "Try to get the best times we can on these courses and take advantage of it."
Hannah added, "We all need to make sure we get a good night's rest, wake up ready to go, and be pumped about it and run our best race."
Last season, Hannah finished 11th at the state meet, and during the spring she followed it up with a track and field state title at the Spring Fling, while competing for Murfreesboro Central Magnet since CCHS does not have a track and field team.
"I was really proud of her, because she pushed herself and got the win," Justin said. "I think she was proud of herself too."
As for the Whited duo, they both enjoy getting the chance to race on the same team, especially as they try to help the CCHS squad achieve more success this season.
"It is really cool, because it provides a lot of ease," Justin said. "We really work off each other and push each other in the practices."
Hannah added, "I enjoy it a lot, and it makes it more fun. When we do not have practice, we can go on runs together."
As with any siblings, the Whiteds love each other like best friends, but they are also competitive and want to beat the other either in practice or at a meet.
"We push each other a ton," Justin said. "We have a lot of competition with each other. She wants to be faster than me, and I want to be faster than her. It helps us out a lot. She is my sister and I love her to death. She is a big role model in my life, and she sets the goals high for me."
Hannah added, "We are both really competitive, so we always see the others time, and he blows me out of the water. It is fun to have that competition with him. We are like best friends, and we do everything together.
Being the older sister, Hannah also helped Justin make the transition to high school cross country competition.
"I told him there is going to be a whole lot more people, and a lot of fast people," Hannah said. "So, do not try to go out too fast and kill yourself. Just hang on to somebody and pace off of them.
The duo also has a stepbrother, Ethan, who is 20.