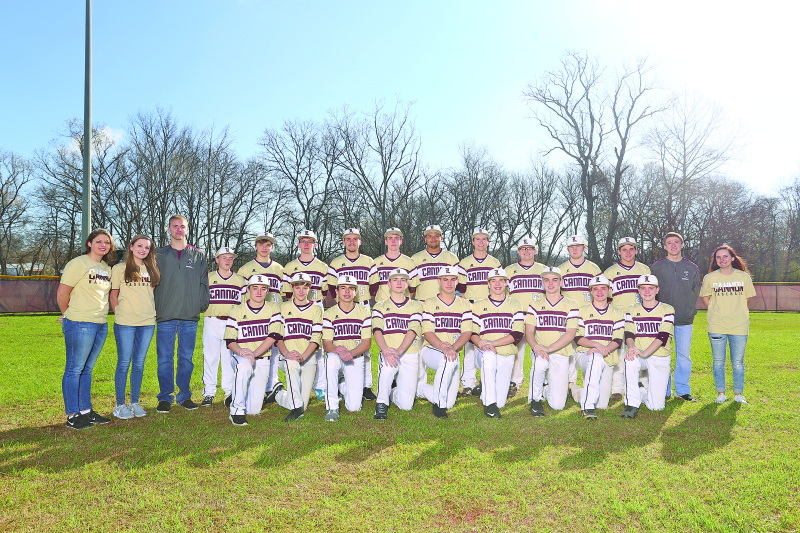 By DAVID HUNTER
The Cannon Courier
Expect the 2017 Lions baseball team to grow a bit this season under the leadership of several senior players.

"We are pretty excited, because we have a lot of young talent as we see how they translate from practice to the games," four-year senior Chandler Todd said before practice last week

Six seniors are one this year's baseball team, including three, who are entering their fourth year in the program. Second-year head coach Colin Jones had a discussion with those experienced seniors, Preston Campbell, Sam Scheu and Chandler Todd, a few days ago, as he passed on their expectations for this season in leading the younger Lions players.

"We had a talk about helping out the young guys, taking coaching, being tough on the younger guys, showing the guys the right way to do it, picking them up when they are down. They have all answered that question perfectly for me, and help me out as well, because we have a larger roster this year than what we are used to over the past few years," Jones said before practice.

The trio of just mentioned four-year seniors along with fellow seniors Johnathan Powell, Anton Knox and Caleb Sissom hopes to help get the nine sophomores and four freshmen used to more playing time this season. Also, the top three pitchers from last season graduated.

"They just need to have fun, do not play tight, and play loose," Scheu said. "We need to let the team chemistry come together and try not to play for yourself."

Fellow four-year senior Campbell added, "My biggest thing is to have confidence, and if you go up there with a great mindset anything is possible and just have fun with it."

Jones is not ready yet to go into specifics about the batting order, or their fielding positions. However, he knows to compete in one of the toughest Class AA districts in the state, the Lions have to focus heavily on the fundamentals during the preseason since they do not return a lot of home run hitting power this season.

"We have been focusing on pitching to contact and playing small ball, because we do not have any home run guys. We are trying to get back to the fundamentals. Our guys have done well with it, and we are going to be aggressive on the base paths," Jones said.

Scheu added, "We are going to have to manufacture runs. When we get a runner on second or third, we must score no matter how many outs we have. It is going to be all about small ball this year, bunts, getting runners on, advancing runners, and doing what we have to do to score runs."

Speaking of the postseason, the Lions have not tasted the region tournament in a long time. Last season, they finished right at .500 in Jones first season at the helm of the program. Of course, this year, the players and coaches want more postseason success, but they must do it against teams in the district who have advanced to the TSSAA Spring Fling last season, Upperman and Murfreesboro Central Magnet.

"I have played with these guys, since I was young," Sophomore Charlie Parrish said. "We have always won, and we know how to win. We just got to put it all together. I think we have enough of the pieces to win."

Jones added, "Our main goal is to make it to Regional. After that whoever wins keeps going so it's one game at a time after that. We take every game one game at a time, and we want to build every day."


The Lions will scrimmage at home against Community on March 9 at 5 p.m. Opening Day is March 13 also at home against Sequatchie County with first pitch also at 5 p.m.