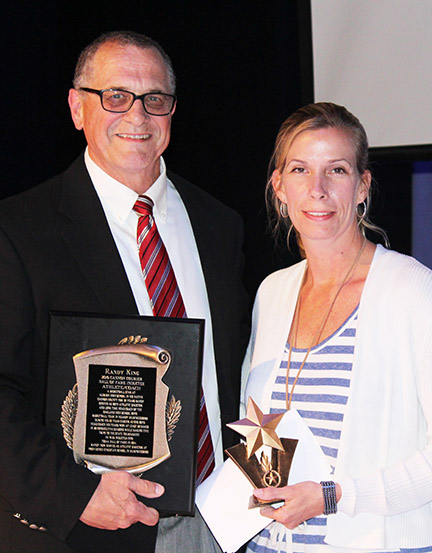 DAVID HUNTER
Courier Sports Writer
Earlier this month, TDOT began replacing the Rush Creek bridge on state route 145, which connects Woodbury to Auburntown. During the winter, gram-mar school basketball fans from around of the area would cross over it to watch some great action on the hardwood.

This year's Cannon Courier Hall of Fame class, includes a famous player and coach from Auburntown, Randy King, who has enjoyed a lot of success from behind the bench during his legendary career.

King started his career at Auburn High School during the 1960s, when the campus included grades first through 12th grade. He would have a successful playing career as he represented them in both middle and high school as they faced other small but loyal communities in both Rutherford and Cannon County.

"My favorite moment was during middle school we played in the Cannon County Elementary school tournament in the old high school gym that seemed enormous compared to the small Auburn gym," King said in an email back in May. "During that time I made some lasting friendships with players from other schools such as Rick Insell, Steve Smith, Andy Bryson and others."

"In high school, I enjoyed playing Woodbury and the other rural schools in Rutherford County such as Lascassas, Kittrell and Walter Hill. The crowds were great and communities were passionate about their teams. The district tournament played at the old MTSU gym was also fun."

After graduating from MTSU in 1973, King returned home to begin his coaching career, including coaching four basketball teams at Auburn at the same time during his first year back at Auburn. Those included the boys and girls middle and high school teams. Back then, the high school only had 53 members attending it.

"We were not very successful, but it was a valuable experience," King said of his first coaching job. "I learned much about humility and working with limited talent."

A couple of years later, King got his big break in coaching as he made the short drive down 96 to join the Murfreesboro Oakland boys basketball staff, which was enjoying a lot of success under "Tricky" Dickie Thomas. 10 years later, Thomas handed over the keys to King as he took over the head coaching job for Oakland, and as they say the rest is history.

During the next 23 years at the MOHS head coach, the Patriots became a state power as they routinely competed for district, region and state titles in a tough part of the midstate. His record during the time, included 552 wins and 168 losses. What is even more impressive, MOHS had at least 20 wins per season during 20 year period. Of course, the district and region titles piled up on Patriot Drive, and they even qualified for five state tournaments in a very tough and deep Class AAA division.

Besides the success on the court by his players, King also received many awards himself, including several District and Mid-State Coach of the Year honors along with the TSSAA A.F. Bridges Award and Distinguished Service Award.

King was so successful behind the bench during his time in Murfreesboro, the MOHS basketball gymnasium is now named in his honor. A few years ago, he made another important step in his career as he became the athletic director at the newly formed Providence Christian Academy also in Murfreesboro.

This upcoming school year, PCA enters into the big time of Tennessee high school athletics as they become a full time member of the TSSAA as they will compete for state titles in Division II. They have the right man for the job.

Besides being a successful basketball coach and athletic director, current and former students have also enjoyed his teaching in the classroom as a long time math professor. It all adds up for this Hall of Famer, who came from a small and loyal community in Auburntown, and now is a member of his third Hall of Fame in three years.

In 2014, he was inducted to the TSSAA Hall of Fame. Last year, he became a member of the Oakland High Basketball Hall of Fame, and now he is selected into the Cannon Courier Hall of Fame.

"I just feel so blessed and honored," King said back in May about his induction into the Cannon Courier Hall of Fame.