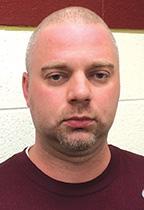 DAVID HUNTER
dhunter@cannoncourier.com
Since taking over the Cannon County High School athletic director position a few weeks ago after Michael Dodgen left to take the girls basketball job at White County, Matt Rigsby has been hard at work getting ready for the upcoming season with his boys basketball team, while filling open coaching positions at the school. Here is a Q and A with Rigsby discussing the state of the CCHS athletic program.
Q: How is the transition going so far as the new athletic director?
A: It is a different task than I am accustomed to, but Mrs. Parker and Mr. Jones have been very helpful, especially accommodating my schedule by interviewing applicants for coaching positions. I have always said I accept the position and I am proud to have the position, but I do not want it to take away from my guys and my program, so I am thankful to Mrs. Parker and Mr. Jones for being very understanding, because we are in camps right now. I got to get the Lions better.
Q: What are your overall goals for the 2015-16 school year?
A: I think every year we should be a staple in doing several things. We should always be competitive. We should look to produce a competitive product regardless of sport across the line in all sports. I am thankful for our coaching staff at CCHS as they strive to do that. They do work hard. We should make sure year in and year out our athletes are doing what they should be doing in the classroom, and we should be on top of those things. It gets tough at times in the middle of the season, when you are scouting an opponent, working on practice plans, and focus on winning. Then process reports come out and I got to make sure I check those too. We should strive year in and year out to some it does not have to be major upgrades at times, but make sure we are updating our facilities and taking care of them. I give our football staff credit that football field looks really good down there.
Q: Why is Coach Jonathan Odom a good fit for the girls' basketball program? How much did it help having previous experience within the program?
A: Given the timing of the situation, I had already back the girls out of the first camp at MTSU (June 3-5), but I put them into Siegel's camp (June 10-12). I did not want to ruffle any feathers, and let people think that I try to take competitive days away from them. If I was going to take them to Siegel myself, I was going to, because those girls were ready to play and anxious. In terms of the time frame of it, he already knew the girls and the personal, so that made it an easy transition. He is a fine man and well-respected and it has been a lot of fun to watch him grow as a coach. He has helped me grow as a coach, and he deserves it for so many reasons to be a head coach at CCHS. He has done it the right way, because he started out as a manager, then my non-faculty assistant, and he became my faculty assistant coach. He wanted to become a head coach of his own program. That is something to be said for his patience and willingness not necessary to be in the limelight, but being a loyal and very valuable assistant coach. I told him a long time ago to keep a record of everything he sees me do. Write down what works that he likes, and more importantly write down I do that he does not like. He has been doing that, and it has molded him into his own style of play in what he want to do.

Q: The football team is making steps in the right direction, but what are you looking for out of the football team to be a little bit more competitive this season?
A: Whatever Coach Daniels needs he can come to me and I will fight for him tooth and nail and fight for this program. The first thing any program needs is time and effort. A lot of people do not understand what goes on behind the scenes to running a successful program. Daniels is definitely putting in the time and effort, including being up here at night turning the sprinklers on, or taking kids to 7-on-7 camps, which he does not have to do. I commend Daniels for the time and effort he does put into the program. In terms of what needs to be done, the kids need to see that, and they need to understand that he is investing his time and his work into being a better football coach and making this a better football program.
Q: How is the search going for a new baseball, softball and soccer coach? What qualities are you looking for in your next hire for each of them?
A: When I was hired, I was fourth coach in five years. It was a program that was two years removed from my first year of a 1-23 season. That tells me all I need to know that a program needs to have stability. That is No. 1, we want somebody that wants to be here. You hear all of the time that Cannon County is a stepping stone to getting a higher paying job in Murfreesboro. We get that not only in education, but in a lot of different fields of work. There is nothing wrong with that with people wanting to make more money to help provide for their family. You look at Dodgen for example, 10 years. I do not expect when I talk about stability anybody to be here for 10 years. A good five years of your time and effort into a program you can definitely leave it better than what you found it. The search is not difficult one itself, the process is difficult, because at the end of the day it goes back to we are teachers first before we are coaches. So, we have to find quality teachers for the kids in the classroom to learn and it goes back to fitting the puzzle pieces into finding a coach for sport X and fill teaching positions. I support all of our coaches and program here, and I do not put one ahead of the other. All are treated equally in terms of we want the best person to fill a head coaching position.
Q: Why is Linda Cook a good fit for the volleyball program?
A: She is a good fit, because No. 1 she is going to work hard at it. She called me yesterday with some ideas about getting the girls into some team camps. No. 2 and most importantly, any parent who has had a student in Mrs. Cook's medical class, they know what kind of awesome teacher and awesome lady she is and those will correlate into her coaching and make her successful and make that program competitive. The girls will definitely respect her and love her and they appreciate who she is."
Q: Last season, the cross-country and girls basketball team advanced to state, while the boys' basketball team was one game away from advancing to state. What does each of the teams need to do to continue the momentum this season?
A: Coach Marc Lawson has built a program from scratch, and he is cross-country to me. What he has done, and the numbers he has gotten out and getting kids to want to be a part of it is quite frankly a very tough sport. What he has done with it, a kid that is near and dear to me, because he played for me also is my neighbor Marshall McReynolds. We cannot undervalue the fact that program got that kid a Division I scholarship at Austin Peay. He is going to keep doing what he is going to do and that is going to be successful. Graduation hurts basketball as much as any sport I won't say more, because we only have a 15 player roster. When you graduate five like me, you have lost 33 percent of your roster, and 94 percent of your scoring. The girls lost a ton, however, both teams have something that is very invaluable. It took me a lot longer to get this on the boys' side than the girls, but they expect to win, and that is all they know. That is very valuable to a player and a program where losing is not acceptable. That makes you want to get in the gym and put more time in when no one is watching. That makes you want your teammates to succeed around you and help the whole program as a whole. That takes out a lot of selfishness that athletes might have.
Q: As the new athletic director, what stamps do you hope to bring to the entire CCHS program?
A: I want any coach across the broad that wears the same maroon colored shirt I do, and any coach that has the same CC logo as I do. I want us all to make sure we understand that we are a representation of each other. No. 1 on a larger scale we are a representation of our community, our kids, our businesses and way of life in Cannon County. I think our coaches do understand that, so we need to make sure our actions are appropriate, including at a district coaches meeting. We want to make sure we are respected, professional and we are representing our school, community and county appropriately.

Q: How did your experience here at the school, and learning from Dodgen help you make the transition to the athletic director position?A: Coach Dodgen and I had an awesome working relationship. I did not only lose a co-worker, but I also lost a buddy. You do not spend seven years with somebody and not become either really good friends or really good enemies. I have heard horror stories regarding boys and girls basketball coaches not getting along. People need to understand how much coordination there is between boys and girls basketball coaches. There are scheduling, gym times, practice times, youth basketball programs, trans-portation and budget.
money issues that we have to coronate. For us to have that type of relationship, we were people people, because we knew how to treat each other, respect each other and strengthen each other programs. I will definitely do the same for all of the other programs with all of those coaches.

Q: How excited are you about the upcoming school year?
A: I am very excited. Will it be a challenge for me, because there is new things I have to learn? Responabilites on my end now like making sure athletes are TSSAA eligible. It will be a challenge, but it is a challenge I am excited for. It will definitely be new to me, but I am willing to learn new things in this profession.