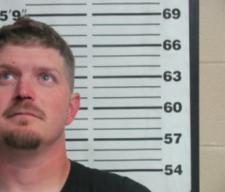 A Woodbury man ended up at the Cannon County Jail recently after being kicked out of a local rehabilitation facility.
Tyler C. Ritter is facing a charge of public intoxication following his arrest on Nov. 16.
According to an incident report filed by Cannon County Sheriff's Deputy Mark Sloan, at around 7:50 p.m. on that day a call was received a call from Parsley's Market of a intoxicated male on the property. He was described as a white male with dark clothing. The man was gone before deputies arrived.
"(After) a small search of the area I was able to find him (Ritter) across the street," Sloan stated in the report.
The man was identified as Tyler C. Ritter.
"He said he is a patient at the rehab center located on Cobb Lane. So, I took Mr. Ritter back to that location and dropped him off. Minutes later, one of the workers at that center called this department and wanted to speak to an officer. I spoke to a gentleman who told me Mr. Ritter was kicked out of the center and was and was in the middle of giving him a ride to Murfreesboro. Along the way, Mr. Ritter became disorderly and the driver kicked him out at the Parsley's Market.
"After dropping him off, the staff at the center called again. They stated he ran from them. He ran through a creek and onto Hollis Springs Road. He was later found back at the rehab center laying next to a building. I then took him into custody and transported him to the jail for booking."
Ritter is due in court Dec. 4. His bond was set at $500.