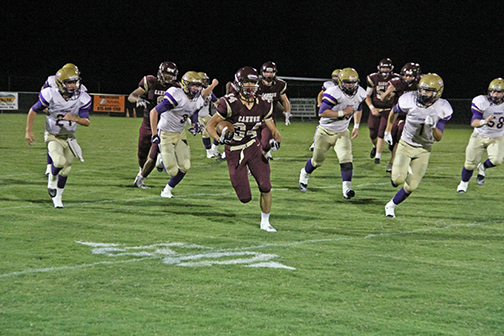 By David Hunter
The Lions had a chance to bounce back after last week's loss to Jackson County.However, missed extra points, key penalties and the bad timing of the timeouts broke their Lionhearts falling 13-12 to Grundy County at Fred Schwartz Field.

CCHS took the lead 12-6 after three quarters when senior quarterback Josh Walkup punched it in from the two yard line with no time left in the third. Senior running back Jaydon Coon was stopped on the two- point conversion, and it made the difference in the game.

Before the Lions second touchdown, they had already used their final timeout of the second half.

However, the Yellow Jackets flew to the lead for good with a six-yard touchdown run with 8:30 left in the game to tie the score at 12. The extra point was good, and they were able to run out the clock to preserve their first win of the season.

On the first possession of the game, the Lions recovered an onside kick to start the game. On third and 12, Josh Walker escaped from a sack and took off for an incredible 25 yard run to keep the drive alive.

A few plays later, Coon punched it in from two yards out with 7:59 left in the opening quarter to give CCHS the 6-0 advantage after the extra point was blocked.

The Yellow Jackets even the score with a five- yard touchdown run with 10:35 left in the first half, but their extra point was blocked by the Lions. The score at the half was tied at six.

Both teams are now 1-2 on the young season. This Friday the Lions will host Red Boiling Springs at 7 p.m. inside Fred Schwartz Field.