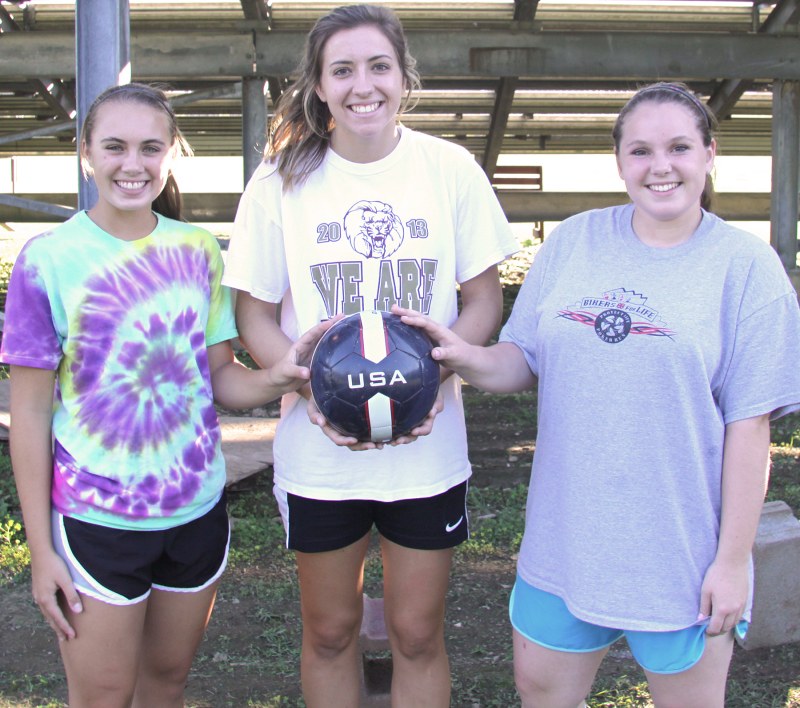 DAVID HUNTER
The Cannon Courier
The Lionettes soccer team hopes to make history this season by finishing over .500 for the first time in a long time in the program history. A few seasons ago, CCHS completed the campaign with an even win-loss record, but they want more in 2015. They are led by a trio of seniors, Livia Walker, Baylee Nemeth, and Bailey Sims, who are close both on and off the pitch.
"I know we want to be better than .500," Nemeth said before practice last week. "I think if we set our goal and surpass it. It would be such a high."
The CCHS trio has been together since Walker moved here before her sophomore year, and Nemeth joined the team at the same time. It has been a friendship, which each of them has enjoyed both on and off the field.
"I really like the other two seniors, and I am really close to them," Sims said before practice last week. "It is fun because we pick at each other and at the other girls and they enjoy it.
Walker added, "It is a pretty tight relationship, and we have been close since coming here my sophomore year. We are tight knit, and I love having them around."
Nemeth said, "I think it is awesome, and I have been on the team for three years, but they are lovely ladies and they are so nice. They are huge leaders on the team. They just make everything feel really friendly, and it is good to play with them."
What makes this trio so helpful during the matches is Walker plays forward while Sims is in the midfield, and Nemeth plays in the back. So each of them can help out the other younger and less experienced players on the pitch during a match.
"I think we have a really good friendship, and I think because we all play on different positions on the field," Nemeth said. "There is a way for us to connect, and we can have good communication with each other. It is really nice to play with people that you really get along with.
Each of them admit they have different personalities, Sims is the quiet one, while Nemeth likes to talk, and Walker is the glue which holds not only them, but the entire team together with her scoring ability on the field.
"They are two totally different Bailey's," Walker said. "Nemeth is always talking and never shuts up. Sims is quiet, and she will come out of her shell every once in a while. They are totally different, and I love having both of them around."
CCHS girls' soccer head coach Dorinda Walker, and Livia's mother is pleased with the leadership qualities each of them brings to the team this season.
"The three seniors bring a lot of leadership," Coach Walker said. "They all have great personalities, work together as a team, and they bounce everything off of each other. I could not ask for them to be meshed any better than they are, and they set examples which is a bonus."
Of course, Walker has gotten some attention for her kicking foot, but it has transferred to the football field as the new placekicker. Last week, a couple of TV stations out of Nashville showed highlights of her kicking an extra point both during a game and in practice. Both of her teammates are really excited to see her playing for the football team.
"I think it is amazing, especially since we have a girl out on the football team," Nemeth said. "I think it is really cool not only for females to be represented out there but for soccer players to get more attention, too."
Sims added, "I think it is pretty awesome because I have known Walker for a long time. It is pretty sweet she can do that."