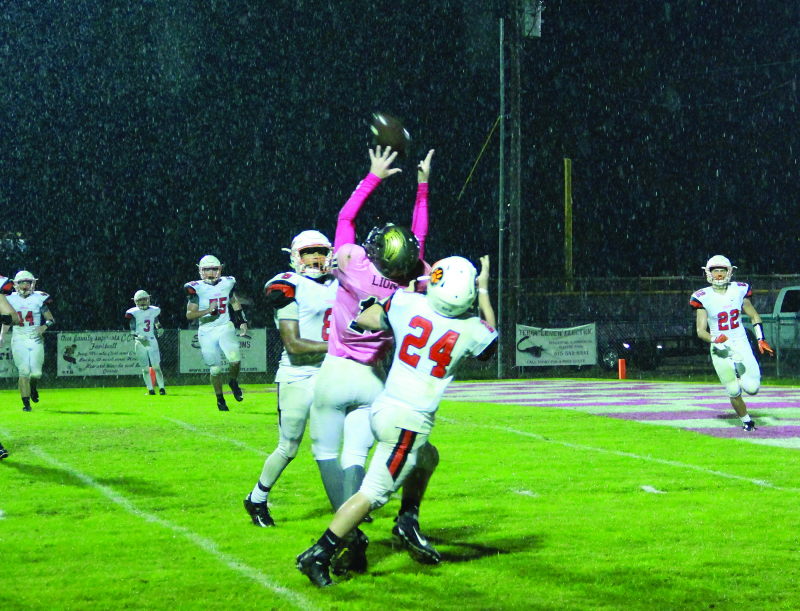 DAVID HUNTER
The Cannon Courier
The Lions played with a lot of pride, but it wasn't enough as a lethal Cougar running game was the difference in Cannon County's loss to MTCS 33-20 falling to 0-8 for the season at Fred Schwartz Field last Friday night.
"That is the best game we have played all year," CCHS head coach T.J. Daniels said after the loss. "We kept fighting, but the biggest thing was turnovers killed us. Any success builds momentum, and we got two district games left. We are not going to quit working and fighting."
The Cougars jumped on the board on their second play from scrimmage as they rambled 78 yards to take an early 7-0 advantage with 10:18 left in the opening quarter.
CCHS had a chance to answer, which featured a beautiful pitch and catch from Brady Page to Jeremy Litchford for 50 yards. However, on fourth and goal Page was stopped at the MTCS 1 to keep the Lions scoreless.
With five seconds remaining in the first quarter, the Lions scored on a fifteen yard Brady Page to Austin Brock pass in the end zone, but a missed the two-point conversion attempt left the score 7-6 at the end of the first quarter. It was the closest CCHS would come to their first win.
Averaging over 300 yards on the ground coming into the contest, the Cougars used their powerful running game to score twice on the ground during the second quarter to make the score 21-6 at halftime.
The second half was a repetition of the first half for the Cougars as they scored from 24 yards out to increase the advantage to 27-6 with 9:50 left in the third. However, the Lions Maika Fonoti, coming back from an earlier injury, blocked the extra point attempt.
Even with the wet conditions, the Lions used their passing attack to get back into the game as Page found Litchford on a 16 yard strike. Page also found Brock for the two-pointer to cut the Cougars' advantage to 27-14 with 4:30 left in the third.
In the final quarter the turnover bug bit again as Page was intercepted by a Cougar defender who returned it to the CCHS 16. Two plays later, MTCS pulled away for good with a 10-yard touchdown run to make the score 33-14 with 4:40 left in the game.
Showing yet still a lot of determination and grit, the Lions blocked a Cougar punt, which was recovered by Tyler Gilley at the MTCS 10 with 1:43 remaining. Fonoti powered it in from the MTCS 1 to the end the scoring at 33-20 with: 52 seconds left in the game.