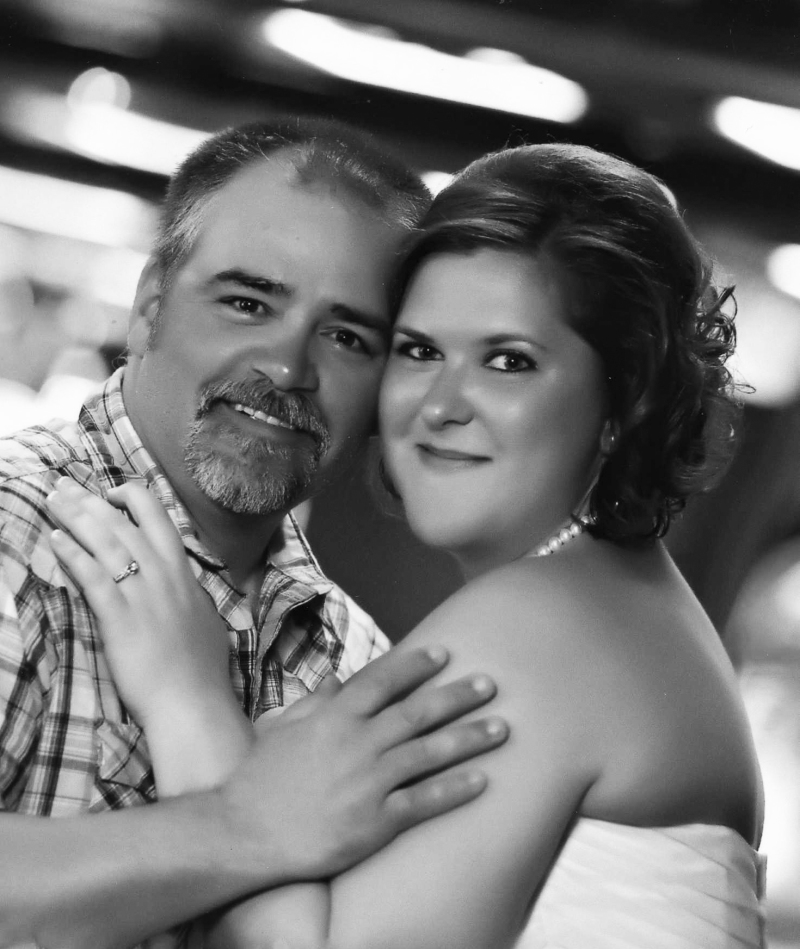 Mr. and Mrs. Randy Gerdes of Woodbury, TN are proud to annouce the marriage of their daughter Kaitlynn Gerdes to Alex Bazinau.

Kaitlynn formerly of Woodbury, is a graduate from Cannon County High School. She moved to Mackinac Island, Michigan in 2011 after working several summers there.

Alex is a graduate from Maackinac Island Public School. He was born and raised on the island as his family has lived there for several generations.

The couple 'eloped' while on a Caribbean Cruise March 29, 2016. Their good friend Dale Peterson married them at the back of their ship, just after departing from San Juan, Puerto Rico in international waters.

There to witness the event, were 'surprised' friends who were traveling with them: Jane Roos, Keith Cripps and Diana Peterson. No one but Dale knew that he was marrying them, until it was time to say their vows.

Her ivory colored gown was strapless with a fathered fully ruched, crossover sweetheart bodice. The natural waist was embellished with a crystallized floral Mokuba ribbon belt with beaded floral accents. The gorgeous bodice sits above a skirt with dramatic layers of organza ruffles and a chapel length train.

The bouquet she carried included lace pieces of wedding gowns from 4 brides before her: Her mother Terry Gerdes, Grandmothers: Marian Ross and Mary Gerdes and Maternal Great-Grandmother Marion Peavey. She also wore her mother's pearls.

After their 8 day cruise to Puerto Rico, Turks, St. Martten and St. Kitt Islands, they returned to Tennessee to start sharing the news with family, before making their way back home to Michigan.
FAMILY OF THE COUPLE:

Parents: Randy and Terry Gerdes of Woodbury, TN; Randy Bazinau (deceased) and Lorma Kolatski of Mackinac Island, MI.

Children: Justin Bazinau, Michael (Keely) Bazinau, Rhiannon and Brenna Bazinau, and all from Michigan

Grandchildren: Evelyn, William, Kyra and McKenna Bazinau.

Siblings: Matthew (Lauren) Gerdes of Milton, TN, Patrick (Taylor) Gerdes of Monroe, WI, Tonya Bazinau-White of Aault Ste. Marie, MI and Matt Bazinau (deceased).

Grandparents: Marian Ross and Bob Ross (Deceased) of Woodbury, TN, Larry and Mary Gerdes of Tullahoma, TN and Robert and Caroline LaPine of Mackinac Island, MI.

A wedding reception is planned for a later date.

The couple is both employed at Mackinac Island Carriage Tours and make their home in Mackinac Island, Michigan.