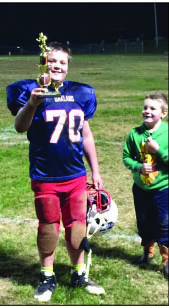 On a Cold Saturday night in Nashville, the Oakland Patriots CCC Youth Football culminated their 9-2 Season with a big win 27-0, over DeKalb Co.
After the game, Kaden Mowl was awarded the Warrior Bowl's Most Valuable Player. He was presented the game ball and trophy. Despite being double and triple teamed from the Nose Guard position Kaden still made several tackles for loss and frustrated the DeKalb Co offense.
On offense, from his center position he opened big holes and made several key blocks on several scoring drives.
Kaden is the son of proud parents Michael and Jessica Mowl. He is standing next to his little brother Landen. He is the grandson of Brent and Lydia Bush, great grandson of Dale and Lynn Bush, and Boyd and Helon Gentry.
Kaden also plays basketball and baseball.