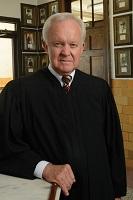 Circuit Court Judge J. Mark Rogers announced his re-election bid today.
"As Circuit Court Judge, I've enjoyed working to improve the judiciary system, resolving disputes and administering justice in Rutherford and Cannon Counties," Rogers said.
"One of the things I'm most proud of is how former State Representative Kent Coleman, State Senator Jim Tracy and I worked together in 2007 to gain legislative approval to establish the Child Support Magistrate position on behalf of the children in our community," Rogers said. "It was a bi-partisan effort and proved to me that the ability of a judge to improve the system was not just limited to the courtroom."
A member of the Rutherford/Cannon County Bar Association, Rogers was past president of the Tennessee Association for Justice. He was named 2009 Trial Judge of the Year by the Southeastern Chapters of the American Board of Trial Advocates.
"Prior to my service as Circuit Court Judge, I built my law practice on East Main Street in Murfreesboro. I brought cases before juries and judges in Rutherford, Cannon, Warren, Coffee, Bedford, Davidson, Wilson, Williamson and other counties, including the United States District Court for the Middle District of Tennessee," Rogers said.
"I took the opportunity to become a judge as a way to pay back my success through public service."
Rogers practiced law for 27 years before being appointed by the Governor in 2004 to represent the 16th Judicial District, which encompasses Rutherford and Cannon counties. He was elected in 2006 for an 8-year term.
"I've presided over multiple jury and bench trials and prepared daily for the multitude of issues that come before the court. I have 37 years of experience in the courtroom as a lawyer and a judge and am convinced this is a necessary asset to keep the Circuit Court running effectively and efficiently."
The Readyville native is a graduate of Middle Tennessee State University and the University of Tennessee College of Law. Rogers' worked at Smithson's Big Star in Woodbury during high school and throughout college at J. C. Penney's in Murfreesboro, becoming the first of thirteen children in his family to go to college. He and his wife, Dr. Jean Anne Rogers, a Murfreesboro optometrist, have three daughters and are members of the First United Methodist Church in Murfreesboro.
Rogers is the son of the late Lois and C. D. Rogers, who served Cannon County as a Squire, now County Commissioner, and former member of the Cannon County Road Board.
"I'd like to remain on the bench. I've enjoyed tremendously serving as circuit court judge and look forward to serving the people of Rutherford and Cannon Counties for another eight years."
Political advertisement paid for by J. Mark Rogers