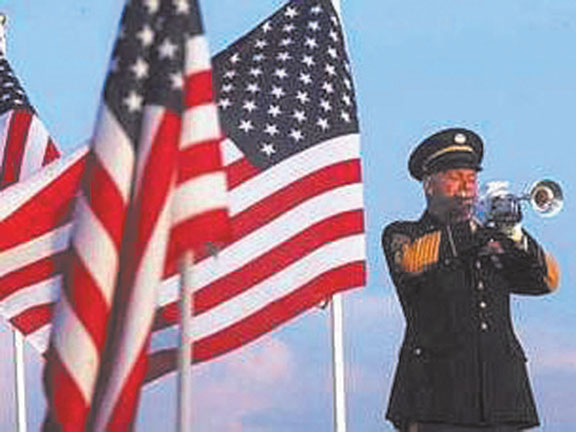 The 7th Annual "Healing Field® - Flags of Remembrance" sponsored by The Noon Exchange Club of Murfreesboro will be held at a new location over Memorial Day Weekend.
The new site will be in a field next to First United Methodist Church, 265 West Thompson Lane, just west of Memorial Boulevard.
In the days leading up to Memorial Day the Murfreesboro Noon Exchange Club will post hundreds of 3 foot by 5 foot American flags (American made) flying on 8 foot white staffs with gold ball tops, laid out in a military grid in tribute to our veterans, our current military, and our personal heroes.
Those who have visited previous Healing Field® events in Murfreesboro will know what to expect and new attendees will not be disappointed. The experience can become emotional for many.
Those visiting the event for the first time are in for an awe-inspiring surprise. A grassy field posted with hundreds of U.S. flags presents an unforgettable panorama of red, white and blue that has earned the description "healing" as part of its name. You are invited to bring small mementoes, poems, photographs, etc., to decorate your sponsored flag.
"We invite all to visit and support the Healing Field® Flags of Remembrance display. Walk with us amid the ordered rows of Old Glory - stand amid the flags as we remember and reflect in a salute of the living to those who died defending our nation and way of life." said Don Wright, 2015 Chair.
While some consider it a "buying a flag", the flags are really "sponsored" in honor or memory of a hero. Those who desire may keep their sponsored flag following the closing of the Healing Field® on the evening of Memorial Day. The Noon Exchange Club is attempting to remind the community of the real reason for Memorial Day.
Sponsored flags will be available for pick-up at the conclusion of the event on May 25th at 7:00 PM. Flags can be sponsored in advance for $30.00 through ww.HealingField.org/Murfreesboro, or by calling 615-641-0121, or emailing Event Chair Don Wright at WrightDon@Comcast.net. Flag sponsorship at the Field will be $35 this year.
Flyers will soon be available around town, and for sure at Franklin Synergy Bank located at 2415 Memorial Boulevard in Murfreesboro.
Volunteers will be needed at approximately 8:00 a.m. on Saturday May 23rd in assisting the posting of the nearly 800 flag staffs over already installed rebar. We invite church groups, organizations, families, and especially veterans to assist with this emotional posting of the American Flags. For recognition you are encouraged to wear your group's shirt.
Other volunteer opportunities during the three day event are possible (repairing of flags, assisting attendees in finding their sponsored flag, etc.). To volunteer use the contact information above.
There will be an official "Flag Retirement Ceremony" performed by Boy Scout Troop # 538 on Saturday starting at 7:45 p.m. Bring any old tattered flags that need a proper retirement before that time.
The Healing Field® will be open daily from 10:00 a.m. to dusk. The Healing Field® will close following a memorial ceremony at 5:00 p.m. on Memorial Day May 25th. There is no charge to walk the Healing Field®. Bring your lawn chairs, camera's, umbrella's for shade, and walking shoes in order to take in this patriotic event. There are great photograph opportunities all weekend.
"You are never gone until you are forgotten." The Noon Exchange Club (NationalExchangeClub.org) will never forget and will not let this community forget the real reason for Memorial Day.